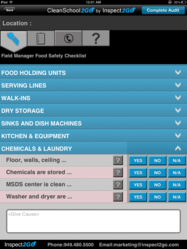 iPad Audits with Inspect2GO Lower Costs and Improve Safety at K-12 Schools
Los Angeles, California (PRWEB) September 27, 2012
Inspect2GO (http://www.inspect2go.com/school) has developed a line of iPad mobile apps to improve efficiency, safety and quality in the nation's schools. The app portfolio includes school kitchen/food safety audit apps, custodial work inspection, vehicle fleet inspection apps, school lunch/nutrition checklists, property inspection and safety apps. The applications can also be provided on iPhone (iOS), Android and Windows tablets or phones upon request.
The school apps are not found in the public iTunes apps store. Instead, schools contact Inspect2GO directly at http://www.inspect2go.com/ . Inspect2GO performs any customization that may be needed, and the resulting app is downloaded by school staff through a private B2B account with Apple. Schools may also provide their existing paper forms to Inspect2GO for conversion into an App.
School Apps for iPad
Contact inspect2GO to discuss your need for mobile apps/software related to:

School Kitchen/Food Safety
Custodian/Janitor Audit
National School Lunch/School Nutrition Programs
Vehicle Inspection (Bus, Car…)
Playground Inspection/Audit
School Facility Safety Survey/Audit
FIT – California Williams Act/Facility Inspection Tool
Custom App Development for Schools

Software and custom application development for K-12 schools and universities
Custom learning applications for schools and publishers
Classroom instructional audit, student assessment and testing applications and software
ABOUT INSPECT2GO
Inspect2GO is a mobile application, cloud database and software development company based in Southern California. The firm's mobile technology includes inspection checklists and apps with signature, photo, markup, custom reporting, pdf, rating, statistics, charting, graphing and database functions. The software is compatible with Apple iOS (iPhone, iPad), Windows Mobile and Android tablets/phones. Inspection results are sent to Inspect2GO's cloud database for storage. Reports, graphs, trends and data feeds can be retrieved from the cloud server via a browser-based web portal.