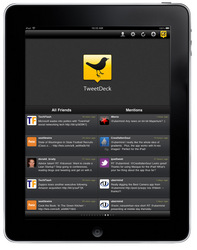 We didn't just want to port TweetDeck for iPhone to iPad
Seattle, WA (Vocus) April 20, 2010
Ubermind, leading developer of next-generation mobile applications, celebrates the successful launch of client TweetDeck's app, which is available for download on the App Store. Based on TweetDeck for desktop and iPhone, the app has been completely redeveloped to maximize the the iPad's unique capabilities and form factor.
The TweetDeck iPad app, the second iPad project from Ubermind, enhances the world's most popular third-party Twitter client with an incredibly intuitive gesture-based Multi-Touch navigation. "We didn't just want to port TweetDeck for iPhone to iPad," said Iain Dodsworth, CEO and founder of TweetDeck. "We've built a new interface which is quintessentially TweetDeck but also takes full advantage of all this new device offers -- our 'highest common denominator' approach."
TweetDeck for the iPad offers two unique interfaces, one for portrait and the other for landscape, which makes the app extremely versatile for the many ways which users integrate TweetDeck into their social media workflow. In addition to the orientation-specific user interfaces, TweetDeck for the iPad includes:

multiple twitter accounts
view multiple columns
add All Friends, Mentions and DM columns
add Search columns, Trending Topic columns, Twitter list columns
cross post updates to any combination of your accounts
geotag your tweets
shorten URLs
upload photos from the iPad's Photo Library
view geocoded tweets on a full-screen map
"TweetDeck designed a very compelling user experience for TweetDeck for the iPad. Performance and usability paramount for version 1.0, which launched alongside the iPad," said Ben Dunton, senior iPad architect at Ubermind. "Our iPad engineers average over 10 years of experience with the Apple-centric technologies that are core to iPad app development -- that architecture expertise was vital to achieving all performance and usability goals in the relatively short window of time before the iPad's debut."
TweetDeck for the iPad is free to download on the App Store. Visit tweetdeck.com/ipad to learn more about TweetDeck for the iPad.
About Ubermind:
Ubermind, Inc. is a full-service software engineering firm and leading app developer for the iPad, iPhone, and Android platforms. With over a decade of experience working on large mission-critical enterprise systems, Ubermind is uniquely equipped to handle all stages of large mobile app and web development projects completely in-house. For additional information regarding Ubermind, please visit ubermind.com.
About TweetDeck:
TweetDeck is a personal browser for staying in touch with what's happening now, connecting users with their contacts across Twitter, Facebook, MySpace, LinkedIn and more, built on the Adobe Air platform. TweetDeck is compatible with several desktop operating systems and is available on the iPhone, iPod touch, and iPad. For additional information regarding TweetDeck, please visit tweetdeck.com.
###