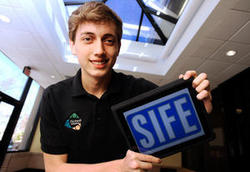 Travis and the iSchool Initiative team are spearheading an educational movement that pairs the benefits and rigors of higher education with the innovation and creativity of 21st century learning
Kennessaw, GA (PRWEB) March 16, 2011
Georgia based nonprofit organization launches new "Donate to Educate" program targeting the 15 million 1st generation iPads to be used in the classroom. According to 19 year old visionary Travis Allen, Founder and President of the iSchool Initiative, the successful debut of the iPad 2 has planted the seeds to transform our struggling public education system in the post PC world. With analysts projecting over 35 million iPad 2's being sold this year the iSchool Initiative has their eye firmly fixed on the 1st generation iPads which will soon be changing hands.
"We want tech savvy people to have an easy way to give back and help create the kind of schools needed to stay competitive in the information age," said Travis.
Allen's iSchool Initiative was recently featured on CNN where he boldly predicted the end of textbooks in the classroom. He believes that students are speaking a new digital language. With Facebook, Twitter, YouTube, blogging, texting and location based mobile applications, they have constant access to the most current and relevant digital information at the tip of their fingers. That is, until they arrive in the classroom. Sadly, most public institutions today look the same way they have for decades. In fact, most schools are still discouraging kids from bringing in digital devices to class. That's exactly what happened to Travis Allen when he tried to use his iPhone to better his learning experience while attending public high school in 2009.
The simple truth is this; revolutionary post PC devices, like the iPad, are perfectly positioned to revitalize the education experience of teachers and students alike. Unfortunately, escalating debt and massive cutbacks in education and other government services are threatening the adoption of these devices in the classroom, pushing us further and further behind the rest of the developing world.
In response to this mounting challenge, the iSchool Initiative has ambitious plans to place tens of thousands of iPad's and other mobile learning devices with tech starved teachers and students nationwide. The iSchool Initiative's new "Donate to Educate" program will play a critical role in better preparing students for today's fast paced digital world.
2011 is widely projected to be the year of the tablet style PC. Stifel financial analyst, Doug Reid, is projecting worldwide tablet style PC shipments to reach 58 million units this year and this is just the tip of the iceberg. With Apple, Google and Microsoft, along with a slew of other hardware and software companies in heavy competition for market share, this battle of technology titans is creating an unprecedented number of multigenerational devices now reaching the public.
The iSchool Initiative's "Donate to Educate" program is a new way for early adopters to upgrade to the latest technology by donating their old digital device and getting a tax deduction while helping to revolutionize education in America.
Teachers interested in receiving these donated digital devices can apply directly on iSchool Initiative's website by completing an online registration form and submitting a Youtube video on how they plan to use them in class with their students.
The organization is reaching out to top distributers, like Walmart and Best Buy, in hopes of simplifying the donation process. Soon, people will be able to donate their old mobile device directly to schools, educators and students at the same time they are looking to upgrade to a next generation tablet. Until then, you can donate your digital device today at the iSchool Initiative website.
These days you can find Allen and his team of digital revolutionaries meeting on campus at Kennesaw State University's Distance Learning Center, where they are preparing for phase two of their successful Digital Learning Revolution tour which kicked off last year at Kearns High School in Utah.
"Travis and the iSchool Initiative team are spearheading an educational movement that pairs the benefits and rigors of higher education with the innovation and creativity of 21st century learning" said Dr. Elke M Leeds, Interim Executive Director of Distance Learning and Associate Professor of Information Systems at KSU.
# # #