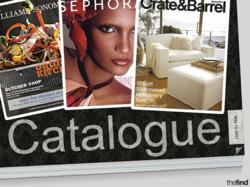 We're impressed with how TheFind re-imagines the catalog shopping experience for the new and promising tablet medium.
San Francisco, CA (PRWEB) May 23, 2011
TheFind, a leading facilitator of online, mobile, and offline commerce and partner to thousands of stores and brands, today launched CATALOGUE – the only app that re-imagines the $100 billion catalog shopping experience for iPad and Android tablets. At launch, CATALOGUE includes the spring collections from national retailers, catalogs and brands that include Crate and Barrel, Williams Sonoma, Sephora, eBags, Stella & Dot, Sundance, Tea Collection, Uggs, and many others. Currently, CATALOGUES is focused on the brands and catalogs that match the early demographics of tablet ownership. As of the initial release, 30 catalogs are included in CATALOGUE, while TheFind is actively working with more than 70 titles, all of which are expected to appear in CATALOGUE within the next 30-60 days.
"Many retailers report that already half of what they consider to be mobile traffic is coming through tablet devices," wrote Sucharita Mulpuru, vice president, principal analyst with Forrester Research, Inc. in the January 2011 report, Five Retail eCommerce Trends To Watch In 2011. "This is likely to lead to a new subset of mobile commerce: tablet commerce (you read it here first: T-commerce)…enabling easy browsing in a living room, during a bus commute to work, or at an airport."
"We are very excited to partner with TheFind on creating a unique tablet shopping experience that leverages our strengths in merchandising with TheFind's demonstrated capabilities in mobile and tablet commerce," said John Seebeck, vice president of eCommerce for Crate and Barrel. "We're impressed with how TheFind re-imagines the catalog shopping experience for the new and promising tablet medium."
Backed by a patented and searchable index of some 500,000 stores and 450 million products, and buoyed by the success of its highly rated and popular mobile apps, which have been downloaded more than one million times, TheFind is uniquely positioned to deliver a tablet shopping experience that stimulates consumer demand across hundreds of stores with the sort of tactile discovery and inspiration that drives retailers' existing paper catalog businesses.
"Even today, catalog shopping is a $100 billion business, with more than 20 billion catalogs being printed and delivered via the postal service to people's homes," said Siva Kumar, CEO of TheFind. "Retailers continue to invest in this business because they stimulate demand and inspire consumers in a way that no other medium has matched; but the emergence of tablets with their tactile approach and high resolution screens presents an opportunity to revolutionize and reinvent a massive retail channel."
Beyond tablet shopping, Kumar noted that TheFind is also investing in a similar application for Facebook, recognizing a parallel opportunity to create a socially-curated shopping experience on tablet computers that leverages 'Likes' from Facebook and the deep index of TheFind's CATALOGUE app for tablets.
CATALOGUE is available for free download at here: http://www.thefind.com/tablet as well as in the iTunes App Store, Android Market and Amazon app store.
About TheFind
TheFind makes it easy to shop, for anything you like, in every store, all at once. Made possible by patented search and discovery technology, TheFind is the fastest growing top-tier shopping engine and the one people return to more than any other according to comScore's measure of comparison shopping engines. Ranked number 12 on the 2010 Inc. 500 list of fastest growing private companies, TheFind was founded in 2005, has been profitable since late 2008, and was venture funded by Bain Capital Ventures, Lightspeed Venture Partners and Redpoint Ventures. TheFind is a San Francisco and Silicon Valley-based company.
# # #