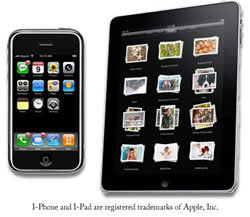 Our clients have taught us how adding a valuable incentive increases the participation in their surveys by at least 20 times the normal response rates they receive without them.
Daytona Beach, FL (Vocus) September 14, 2010
ETTSI Incentive Premiums, a licensed and bonded seller of travel for more than 18 years and a pioneer in the travel incentives industry, today announced a travel survey contest where website visitors to their wholesale travel web site: http://www.ExecTourTravel.com, can complete a 10 question survey about their personal travel preferences and be given the chance to win their choice of an Apple 4G I-phone® or I-pad™.
After noticing a rapid change in consumer travel preferences, ETTSI set out to re-design their wholesale travel offerings to more closely match the needs of today's traveler. At the same time, they also noticed an increase in the number of inquiries about purchasing travel certificates as a tool to increase the response rates in on line surveys - and then it clicked.
"Most of the time it's your job to educate your customers but sometimes they educate you!" states Frank Bertalli, president and CEO of ETTSI, "Our clients have taught us how adding a valuable incentive increases the participation in their surveys by at least 20 times the normal response rates they receive without them."
The ETTSI staff watched as some of their clients created exciting on-line surveys and contests using ETTSI travel certificates as incentives and rewards and it was these clients that were meeting their sales goals month after month by bringing new products to market that really worked. In the past, most companies have used surveys as a way to confirm their marketing strategy, but today, surveys are where marketing strategies begin.
From this survey, ETTSI hopes to be able to fine tune their travel packages to appeal to people who are seeking to travel under consideration of the current economic times. This survey is posted on ETTSI's wholesale travel site: http://www.ExecTourTravel.com/FallSurvey.php. Contestants have up until midnight, December 31st, 2010 to submit their survey and be entered into the contest. Incomplete or duplicate surveys will not be counted. ETTSI will announce the winner on or before March 31st, 2011 and will publish the winners name on the survey page provided the winner gives their permission to do so.
THIS CONTEST IS NOT VALID WHERE PROHIBITED BY LAW or for employees, distributors, sponsors, or their families. This contest is offered subject to all applicable federal, state, and local laws and regulation. Any breach of the Terms of Participation invalidates this offer. Any Tax liability, including disclosure, connected with this contest is the recipient's responsibility. Contestants must be 18 year of age or older to enter.
ETTSI offers their "Promo Series" travel certificates as incentives starting at only $4.95 each which provide the survey participant with deeply discounted travel accommodations. Their "Total Rewards" program, which was initially designed as an employee rewards program, offers several fully paid travel packages starting at just $119.95. These rewards are now being used frequently in contests as prizes as well.
For additional information about ETTSI and their broad range of incentive premiums products, you can contact Frank Bertalli at 1-866-224-9650.
About ETTSI
ETTSI is registered in the states of Florida, California and Nevada as a Seller of Travel. FL#ST22752, CA#ST2065118-40, NV#2006-0132, offering a full service travel agency as well as many travel and cruise packages in the form of travel certificates. For more than 18 years ETTSI has lead the sales incentives industry with unique programs and products always striving to meet the needs and exceed the expectations of the sales organizations they serve. Through the sale of their certificates, ETTSI provides travel accommodations to 1000's of travelers each year garnering them preferred pricing and preferences with airlines, motels, and many other travel related services. Please visit ETTSI.com for more information about the company and its products and services.
###