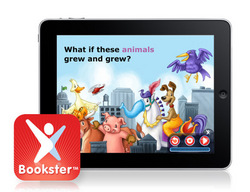 play back their recording and compare what they recorded with the prerecorded narration, hearing the difference for themselves
Provo, UT (Vocus) October 21, 2010
Imagine Learning, developer of the award-winning children's language and literacy software Imagine Learning English, entered the arena of mobile learning last week with the release of its first mobile reading application, Bookster. The app, now available in the iTunes store, is compatible with iPads and iPhones, and is available as a free download.
The company, best known for its educational software program, Imagine Learning English, sees its foray into the mobile app market as another way to deliver engaging literacy instruction to children. "Kids naturally love to explore picture books, but the iPhone and iPad invite an even higher level of engagement," said Clydie Wakefield, vice president of instructional design at Imagine Learning.
"With Bookster, kids can touch the words on the screen and hear them spoken, turn pages, listen to a narrator, and even become narrators themselves by recording their own voices. In the process, they learn print concepts, they expand their vocabulary, and they develop a love of reading," said Wakefield.
The app features dynamic artwork by New York Times bestselling illustrator Maryn Roos, as well as instructional components adapted from Imagine Learning English like sync-highlighted text and echo reading capabilities.
The app was designed with both children and educators in mind, says Derek Dobson, director of products at Imagine Learning. "We envision Bookster being utilized not only in homes, but in schools as well," said Dobson. "More and more classrooms are implementing mobile devices like iPads and iPods as part of the curriculum, and we are working to meet schools' technology needs by supplying them with quality content that is both educational and engaging."
In a review on ipadcurriculum.com, a website that spotlights top educational iPad applications and practices, 2009 Edublog award-winner Kelly Tenkely identified Bookster as a valuable tool for helping students develop fluency.
Tenkely noted that giving students feedback on proper pronunciation and enunciation can be a challenge. Bookster helps teachers provide better feedback by enabling students to "play back their recording and compare what they recorded with the prerecorded narration, hearing the difference for themselves," Tenkely wrote.
Additional stories and updates for Bookster are in development. The company appreciates feedback from parents, educators, and kids who use the app. Consumers are encouraged to download the app and submit reviews to the iTunes App Store or at bookster@imaginelearning.com.
About Imagine Learning
At Imagine Learning, we're passionate about bringing language and literacy instruction to the students who need it most. That's why we used state standards and scientifically based research to develop Imagine Learning English, an innovative software program that uses first-language support, continual assessment and differentiated instruction to meet the needs of four key student populations: English learners, struggling readers, students with disabilities and early childhood education students. Imagine Learning English gives students one-on-one instruction, continual assessment, and scaffolded support while keeping teachers abreast of student progress through real-time reports. Visit our website at http://imaginelearning.com to find out how we're giving students, parents and teachers essential tools for language and literacy development.
###