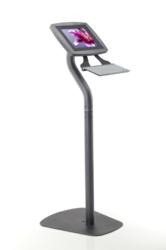 "Implementing modular add-ons such as the Apple® keyboard tray help our customers extend the versatility of their iPad / Tablet Kiosk applications in a variety of settings including: trade shows, events, retail and corporate settings."
Waterloo, Ontario (PRWEB) July 25, 2012
The Armodilo iPad Kiosk now feature an optional add-on keyboard tray for an Apple® keyboard, making the versatility and functionality of the award-winning tablet display stands even more extensive. For input applications such as surveys and forms, the keyboard tray extends the functionality of the tablet display stand, making it easier to input data quickly.
"We're continually working on improving and extending our iPad Kiosks to be more versatile as we keep listening to feedback and requests from the community.", says Iles Guran, Founder and CEO. "Implementing modular add-ons such as the Apple® keyboard tray help our customers extend the versatility of their iPad / Tablet kiosk applications in a variety of settings including: trade shows, events, retail and corporate settings."
The keyboard tray, like the rest of the Armodilo line is made out of lightweight aluminum finished in black to extend the premium product feel. "All our accessories are modular and can be added easily at any time", adds Iles.
The current keyboard tray supports an Apple® Bluetooth keyboard but future iterations will also be available for various other devices such as the Android line of tablet devices including the Motorola Xoom and Samsung Galaxy Tabs, which Armodilo is famous for supporting with it's patent pending Tablet Fit Kits™
Additional information on Armodilo products and accessories can be found at http://www.armodilo.com
About Armodilo Display Solutions
Based on over a decade of design experience, Armodilo Display Solutions was launched in 2011 as a division of Bonzai Design Group Inc. Our founding company, Bonzai Design, specializes in visual design — translating concepts & ideas into striking visual campaigns. We help clients develop high-end identity, packaging and branding programs. With over a decade of branding and marketing experience, Bonzai Design has directly applied its design thinking approach to its tablet kiosk line.
For more information about Armodilo, contact:
Iles Guran Founder & President at Armodilo Display Solutions
sales(at)armodilo(dot)com / 1-800-975-5946