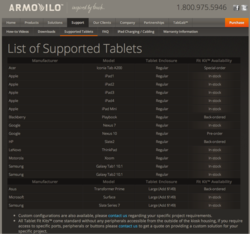 All of our tablet display stands use our patent-pending Tablet Fit Kit system to offer multi-tablet support, giving an unprecedented choice for tablet devices on a single tablet display solution
Waterloo, Ontario (PRWEB) December 19, 2012
Armodilo receives a great deal of traffic to its newly launched website featuring the iPad kiosks / tablet display stands that launched earlier this year. This Waterloo Ontario startup has received an overwhelming response from the extremely young tablet display stand market.
"At Armodilo we strive to offer our clients the highest quality display stands to support the widest variety of tablets on the market", states Iles Guran, Founder and CEO. "The Armodilo website now features the full availability of tablet devices that the Armodilo Tablet Display Stand encloses, located in the support section under 'Supported Tablets'", adds Iles.
Armodilo has also introduced new sliders to the homepage, which now include: the larger head unit supporting the Microsoft Surface and Samsung Slate, and the ArmoTwist™ pivoting add on. "All of our tablet display stands use our patent-pending Tablet Fit Kit system to offer multi-tablet support, giving an unprecedented choice for tablet devices on a single tablet display solution", quotes Iles.
Each Armodilo Tablet Display Stand comes pre-configured with a specific Tablet Fit-Kit for a specified tablet device. The Tablet Fit-Kit consists of a custom set of tablet inserts and a custom frame. Changing tablet devices in the future is easily achieved by switching the Tablet Fit Kit™.
Current Tablet Fit Kit configurations support the full range of Apple® iPad devices, the Motorola® Xoom, Samsung® Galaxy Tab (1 & 2), Google Nexus 7, and now both the Microsoft Surface and Samsung Slate thanks to Armodilo's new larger tablet kiosk head. Custom tablet configurations are also possible for larger installations.
About Armodilo Display Solutions
Armodilo Display Solutions is a multiple award-winning tablet display manufacturer located in Ontario, Canada. With a variety of tablet display stands and accessories for trade show, event, retail and corporate markets, Armodilo sets itself apart by creating highly refined products for discerning brands around the world.
For more information about Armodilo, contact:
Iles Guran Founder & President at Armodilo Display Solutions
sales(at)armodilo(dot)com / 1-800-975-5946