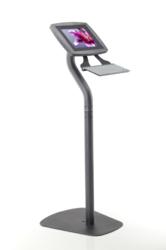 The Apple Keyboard Trays have been very popular with our clients, and we wanted to extend the keyboard capability to Android and Microsoft tablet users as well
Waterloo, Ontario (PRWEB) February 19, 2013
Armodilo Tablet Kiosks now feature an optional add-on keyboard tray for the Samsung keyboard, making the versatility and functionality of the award-winning tablet kiosks even greater. For input applications such as surveys and forms, the keyboard tray extends the functionality of the tablet display stand, making it easier to input data quickly.
"The Apple Keyboard Trays have been very popular with our clients, and we wanted to extend the keyboard capability to Android and Microsoft tablet users as well," says Iles Guran, Founder and CEO. "These newer add-ons work toward our goal of extending the versatility for tablet kiosk applications in a variety of settings including: trade shows, events, retail and corporate settings."
The keyboard tray is made entirely out of a single piece of lightweight aluminum anodized black to extend the premium product feel. "The Samsung keyboard tray looks almost identical to the current Apple add-on extending the paralleled design throughout the entire Armodilo product line", adds Iles.
The current keyboard tray supports the Samsung Bluetooth (AA-SK2NWBB) keyboard which is compatible with any Bluetooth enabled Android or Windows based dtablet, which Armodilo is famous for supporting with it's switchable Tablet Fit Kits™.
Additional information on Armodilo products and accessories can be found at http://www.armodilo.com
About Armodilo Display Solutions
Armodilo Display Solutions is a multiple award-winning tablet display manufacturer located in Ontario, Canada. With a variety of tablet display stands and accessories for trade show, event, retail and corporate markets, Armodilo sets itself apart by creating highly refined products for discerning brands around the world.
For more information about Armodilo, contact:
Iles Guran Founder & President at Armodilo Display Solutions
sales(at)armodilo(dot)com / 1-800-975-5946