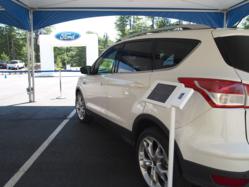 Lilitab's products are well designed, engineered and built to make any brand experience look top notch.
San Francisco, CA (PRWEB) August 14, 2012
Lilitab LLC, in partnership with emg3, created a custom iPad kiosk solution for a touring automotive road show. For the next two years New Englanders at these events will experience the latest automotive features, with custom interactions initiated by a quick wave of a specially coded RFID bracelet. After attendees register and create a profile of preferences, they will be able to interact with multiple Lilitab iPad kiosks around each vehicle showcasing new features and benefits of interest to them.
"Working with a brand that is all about precision and quality, we needed a partner that could provide event hardware of the same standard. Lilitab's products are well designed, engineered and built to make any brand experience look top notch", Todd Friberg, SVP-Creative Director for emg3. Lilitab iPad kiosks are being used in more than ten automotive showrooms across the country and around the world including Subaru, Cadillac, Lexus, Chrysler, Jaguar and Land Rover.
Temporary exhibits and tradeshow booths are easily managed with the lightweight and portable Lilitab Standard kiosk. The modular design of the mounting solution provides for several types of visitor interactions: handheld, tabletop or freestanding.
The Lilitab iPad enclosure head unit securely locks the tablet in place. Every mounting solution has the option to be bolted or cable-locked to the floor or other fixture with such security. Integrated into the Lilitab design from the very beginning, trade show exhibitors can be sure their iPad resources are safe in public venues.
Lilitab iPad kiosks are versatile, modular and easy to customize. The Lilitab Tabletop turns any desk or table into a self-service station with quick installation; the Lilitab Surface is for a more permanent solution for a wall or counter. Keyboard and printer shelves are also available as added accessories. The Lilitab Standard floor kiosk can be customized with optional banners to promote special events or corporate activities.
The iPads remain fully charged when plugged into an outlet using the integrated charging cable in each stand. Kiosk set-up is quick and easy; just attach an iPad, secure the head unit, and plug in the power cord.
Installing different home button access face plates regulates visitor interactions. Full web access, a single site or specific application define the varying visitor experiences.
All of Lilitab iPad kiosks offer optional and convenient exhibit shipping in rugged, yet portable, ATA approved travel cases.
Full ADA compliance assures the Lilitab provides easy iPad interactions for wheelchair visitors.
emg3, a Falmouth, Maine-based event marketing firm, believes in the Power of 3®, the unique touchpoints where your brand, your audience, and their environment converge. emg3 builds smart events designed to target, create, and leverage these touchpoints. Sometimes for consumer products. Sometimes for business-to-business applications. Always in three dimensions. It's the core of our philosophy, the focus of our capabilities, and the essence of what we do.
Lilitab, based in San Francisco, California, is a group of designers, engineers & business people passionate about the use of tablet computers in public-use environments. With their compelling interface, compact form-factor and economical price-point, there are all kinds of new and unique uses for putting interactivity into the public space. Founded in 2011 by Adam Aronson, an award winning kiosk designer, Lilitab is committed to delivering the most secure, functional and stylish security enclosures for ANY tablet. For more information visit http://www.lilitab.com or call 888 705 0190.
Tradeshow exhibits and auto showrooms can engage visitors using the affordable and sleek Lilitab iPad kiosk.