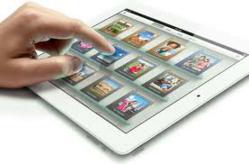 New York, NY (PRWEB) January 21, 2013
iPad Pete, renowned for the series of 'iPad Tips' that he writes online, recently updated his existing iPad Video Lessons. This update was made keeping in mind the release of the iOS6. After he has launched the new course, iPad Pete made an announcement through http://youripadvideolessons.com that he'll be giving a variety of bonuses upon purchasing. The iPad Video Lessons are a series of 100+ videos that aim to teach every newbie and beginner how to utilize every feature of the iPad, effectively. The device in itself is a complex piece of technology harboring much more features than most people are aware of.
iPad Pete has offered these perks keeping in mind the loyalty and respect that he sees in his customers and aims at giving them good value of their hard earned money.
The announcement on http://www.iNewsBucket.com mentioned clearly the perks that are to be offered and also provided a link to iPad Pete's website which explains in detail what exactly will the customers be getting. The Bonuses include the training courses of the iOS5 too, for those that still own the predecessor. Also, upon making the purchase, people will receive, complete in-depth iCloud training, that is generally rare and only experienced people have the capability to deliver. http://www.INewsBucket.com also reported that the customers will get wireless updates, backups and syncing facilities along with some free utility applications.
Customers can also view iPad Magazines, and gain access to the 'Beginner's Bootcamp', without paying a single penny.
"I'm sure these bonuses will make our clients happy, a happy customer is what pleases us the most!" said iPad Pete in a statement on http://youripadvideolessons.com. It is anticipated that these bonuses will result in a large number of people buying the iPad Video Lessons.
To view full details of the course or to make a purchase, visit the website: http://youripadvideolessons.com
"This Press Release has been composed and is being marketed by The Good Life Services Inc.
iPad Pete is renowned for the online series of iPad Tips that he's been delivering since long. A "geek", as he calls himself, the video course has been designed keeping in mind every single function of the iPad, ensuring that the clients learn efficiently how exactly can they use their iPad to the fullest.
About iNewsBucket.com
INewsBucket.com is a renowned online news reporting platform, most known for its cutting edge and newsworthy material. The company excels in genuine, trustworthy pieces of information, solely for the education and information of the general public. With a team of researchers and reporters working around the clock, the expertise involved ensures the readers are provided with the best and honest pieces of news and reviews from across the internet.
Contact:
Richard Dumaresq
http://inewsbucket.com/