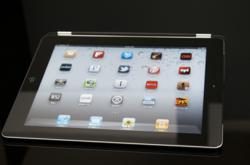 New York, NY (PRWEB) January 22, 2013
iPad Pete gained popularity back when the iPad came into existence. With his effective 'iPad Tips', he developed a series of videos on the usage of the iPad for everyone that didn't know how to do it. Upon arrival of the new iOS6, the video series has been updated to make way for the latest additions and features. The video series has been aimed at educating every newbie on advanced usage of the iPad so that one can make the most out of the gadget. The price cut was announced iNewsBucket.com soon after the update for the iOS6 was introduced.
The price cut lowers the tag of $147 to just $97, along with giving the customers a variety of different perks and bonuses to go with a purchase.
The iPad Video Lessons are specifically for people that do not know how to use an iPad to its full capability. Combined together in a course of 100+ videos, of 11 minutes each, the aim of the course is to teach the numerous different ways in which an iPad can be used. iPad Pete aims to extend reach to a larger number of customers by rejuvenating the course, giving a flat price cut off and various other perks. The perks include iCloud training, updates, applications, magazines and life time access to iPad tips, at no cost at all. INewsBucket.com also mentioned all of these bonuses. With so much at a mere $97, iPad Pete has already started to face a large number of order placements.
"Visit http://youripadvideolessons.com right now, you're missing something big!" tweeted iPad Pete from his largely followed twitter account, pointing towards the featured news of the price cut on the website http://www.iNewsBucket.com
To view full details of the course or to make a purchase, visit the website: http://youripadvideolessons.com/
"This Press Release has been composed and is being marketed by The Good Life Services Inc."
iPad Pete is renowned for the online series of iPad Tips that he's been delivering since long. A "geek", as he calls himself, the video course has been designed keeping in mind every single function of the iPad, ensuring that the clients learn efficiently how exactly can they use their iPad to the fullest.
About iNewsBucket.com
INewsBucket.com is a renowned online news reporting platform, most known for its cutting edge and newsworthy material. The company excels in genuine, trustworthy pieces of information, solely for the education and information of the general public. With a team of researchers and reporters working around the clock, the expertise involved ensures the readers are provided with the best and honest pieces of news and reviews from across the internet.
Contact:
Richard Dumaresq
http://inewsbucket.com/