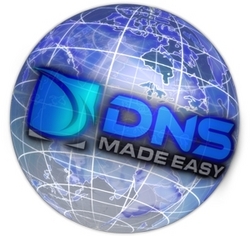 Completing the expansion to our IP anycast network ahead of schedule shows our internal commitment to keep costs low for our customers
Reston, VA (Vocus) November 1, 2010
DNS Made Easy (dnsmadeeasy.com), the leading IP anycast managed DNS service provider, today announced a major expansion plan of their global IP anycast network. DNS Made Easy will be adding over 200 additional name servers at 11 new locations worldwide. This expansion increases the performance, reliability, and security of the company's enterprise DNS infrastructure. The DNS Made Easy network is already respected as being one of the most reliable enterprise DNS infrastructures in the world providing Managed DNS services to hundreds of thousands of domains with a eight year 100% DNS uptime history and 99.9999% uptime history overall.
This expansion will take place over the next 9 months and will increase the number bandwidth providers at existing sites and add name server clusters at new locations. Internationally name server clusters will be added in London, Frankfurt, and Hong Kong. In the United States DNS Made Easy will be adding name server clusters in New York, Los Angeles, Chicago, Miami, Dallas, San Jose, Seattle, and Washington DC. Each location contains a cluster of name servers using DNS Made Easy's proprietary Elite Resolution platform.
Not only will the launch of this new capacity done without any interruption of service but also DNS Made Easy engineers is aiming on finishing the project ahead of schedule. "Completing the expansion to our IP anycast network ahead of schedule shows our internal commitment to keep costs low for our customers," said Bryan Hughes, Vice President of Data Center Operations, DNS Made Easy. "DNS Made Easy has consistently found ways to offer a true IP Anycast DNS network for our customers at a fraction of any other valid managed DNS competitor."
DNS Made Easy's use of IP anycast routing technology provides low latency in DNS response times from anywhere on the planet. "Our DNS Made Easy customer base includes many international companies that need a DNS provider that answers DNS queries local to where their users are," stated David Miller, Vice President and CTO, Tiggee. "Adding these additional locations and capacity to our network will increase DNS query performance for our growing customer base world wide and provides the infrastructure necessary to handle expected growth up to query loads exceeding 200 billion queries per day."
More information about DNS Made Easy suite of services is available at http://www.dnsmadeeasy.com
About DNS Made Easy
DNS Made Easy is a subsidiary of Tiggee LLC and is a leader in providing global IP Anycast enterprise DNS services. DNS Made Easy launched their DNS services and web management portal in 2002 and has grown to manage hundreds of thousands of customer domains receiving more than 2.0 billion queries per day. DNS Made Easy has a proud history of 99.9999% DNS uptime and industry leading ROI since launching their DNS service.
About Tiggee LLC
Tiggee LLC (tiggee.com) is a privately held company, formed in 1999 to provide innovative internet solutions for businesses. "Putting your business on the Internet is our business." Tiggee LLC's subsidiaries include DNS Made Easy (IP anycast enterprise managed DNS services - dnsmadeeasy.com), VPSit (enterprise virtualization environments - vpsit.com), Host Made Easy (dedicated server hosting and co-location services - hostmadeeasy.com), Top Level DNS (TLD name services - topleveldns.com), Resolving Name Server (resolvingnameserver.com), Show My Host (showmyhost.com), Reverse DNS Trace (reversednstrace.com), IPv6 Verify (ipv6verify.com), and Domains Made Easy (domainsmadeeasy.com).
# # #