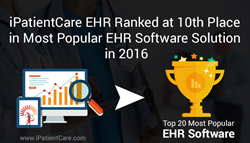 It helps an organization to do best work, get achievements & hear good acknowledgments when entire team is passionate about getting the organization onto the whole new level, said Sunil Tirthdasani & Parth Vyas, Digital Marketing Strategists, iPatientCare
Woodbridge, NJ (PRWEB) November 17, 2016
iPatientCare, a pioneer in cloud-based ambulatory EHR and Revenue Cycle Management services, takes pride in announcing the inclusion of iPatientCare EHR as one of the nation's Top 20 list of the Most Popular Electronic Health Records Software for 2016. Capterra recently released the 2016 ranking of the leading EHR solutions measured by their unique automated algorithm including the combination of total number of customers, users, social presence, knowledge shared, reviews etc. iPatientCare EHR ranked at 10th place with scoring 60 points.
Electronic Health Record (EHR) software gives medical professionals access to patient medical records from a centrally-accessible system. EHRs typically include medical history, laboratory results, medication, allergies, and even billing information to help create a more streamlined process for patient care.
iPatientCare ambulatory and inpatient EHR is advanced, accessible and highly available application platform, Integrated Practice Management, Patient Portal Solutions, professional and institutional billing system, health information exchange, and mHealth suite.
Capterra is providing a free service to help businesses find the right software by offering the most comprehensive list of business software solutions on the web so that end users can find the best match.
"It always helps an organization to do best work, get achievements and hear good acknowledgments when the entire team is passionate about getting the organization onto the whole new level. iPatientCare has succeeded by delivering solutions that were designed to be user friendly and intuitive; the rating reflects the growth in our customer base which is due to iPatientCare robust EHR and practice management software which is again designed as per needs and workflows of Physicians' offices", said Sunil Tirthdasani and Parth Vyas, Digital Marketing Strategists, iPatientCare.
About iPatientCare:
iPatientCare, Inc. is a privately held medical informatics company based at Woodbridge, New Jersey. The company's unified product suite includes Electronic Health/Medical Record and integrated Practice Management/Billing System, Patient Portal/PHR, Health Information Exchange (HIE), and Mobile Point-of-Care Solutions for both Ambulatory and Acute/Sub-acute market segments. iPatientCare has been recognized as a preferred MU partner by numerous Regional Extension Centers (REC), hospitals/health systems, and professional academies.
iPatientCare EHR 2014 (2.0) has received 2014 Edition Ambulatory Complete EHR certification by ICSA Labs, an Office of the National Coordinator-Authorized Certification Body (ONC-ACB), in accordance with the applicable eligible professional certification criteria adopted by the Secretary of Health and Human Services (HHS).
Full certification details can be found at ONC Certified Health IT Product List.
The ONC 2014 Edition criteria support both Stage 1 and 2 Meaningful Use measures required to qualify eligible providers and hospitals for funding under the American Recovery and Reinvestment Act (ARRA).
Visit http://www.iPatientCare.com for more information.