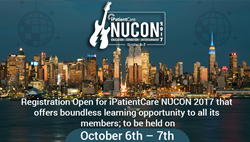 "The keynote session would brief all the attendees with the iPatientCare's upcoming technologies and what would be the user experience in 2018," said Kedar Mehta, CTO, iPatientCare.
Woodbridge, NJ (PRWEB) September 19, 2017
iPatientCare, a pioneer in cloud-based ambulatory EHR and Revenue Cycle Management services, announced today its much awaited gala annual event, National User Conference (NUCON) 2017, which will be held on October 6th and 7th, 2017 at Hotel Hilton Midtown, New York City. iPatientCare's annual user conferences involve national participation of iPatientCare users and channel partners, focus on education/exhibition/entertainment and generate great excitement and applaud for the series of presentations involving sneak preview of the future product releases and fun events engaging the entire iPatientCare community.
Every year through NUCON, iPatientCare offers a great learning opportunity to all its members to stay up-to-date on the future industry trends as well as latest and upcoming enhancements in iPatientCare product suite. NUCON serves as a great platform that brings iPatientCare channel partners, end users, certified professionals, business partners, and entire iPatientCare family together for plenty of networking, learning from each other, and having fun over foods, drinks and outings as a group.
Kedar Mehta, CTO, iPatientCare described the event as the greatest customer engagement event of the iPatientCare and said enthusiastically, "We are delighted to have this opportunity to connect with iPatientCare community yet once again. As healthcare reforms push providers towards pay-for-performance and value-based payments, we enhance our technology, tools, and methodologies to help physicians, office managers, and their patients to enjoy the benefits of the reforms. I look forward to delivering the Keynote session with Udayan Mandavia, CEO/President, iPatientCare. The keynote session would brief all the attendees with the iPatientCare's upcoming technologies and what would be the user experience in 2018."
"We have been conducting this annual gala event for past seven years and the overwhelming success of these NUCONs has encouraged us to come up with one more conference filled with lot of excitement and enjoyment for the community we serve. The NUCON attendees would have an opportunity to cruise over the Hudson, overlooking Manhattan skyline and spend time with their family and network with their peers on the rooftop bar and lounge of the Spirit Cruise." said Rajesh Mandaviya and Parth Vyas, Coordinators, NUCON 2017 Organizing Committee.
The NUCON 2017 promises to provide a great platform for learning and networking along with extraordinary entertainment.
About iPatientCare:
iPatientCare, Inc. is a privately held medical informatics company based at Woodbridge, New Jersey. The company's unified product suite includes Electronic Health/Medical Record and integrated Practice Management/Billing System, Patient Portal/PHR, Health Information Exchange (HIE), and Mobile Point-of-Care Solutions for both Ambulatory and Acute/Sub-acute market segments. iPatientCare has been recognized as a preferred MU partner by numerous Regional Extension Centers (REC), hospitals/health systems, and professional academies.
iPatientCare EHR 2014 (2.0) has received 2014 Edition Ambulatory Complete EHR certification by ICSA Labs, an Office of the National Coordinator-Authorized Certification Body (ONC-ACB), in accordance with the applicable eligible professional certification criteria adopted by the Secretary of Health and Human Services (HHS).
Full certification details can be found at ONC Certified Health IT Product List.
The ONC 2014 Edition criteria support both Stage 1 and 2 Meaningful Use measures required to qualify eligible providers and hospitals for funding under the American Recovery and Reinvestment Act (ARRA).
Visit http://www.iPatientCare.com for more information.