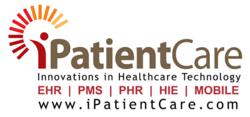 iPatientCare's customer base is steadily increasing on the West Coast, and hence, we wanted to ensure better and more focused support to our customers based in this region
Woodbridge, NJ, (PRWEB) March 28, 2012
iPatientCare, Inc., a pioneer in mobile healthcare computing and leading EHR and integrated Practice Management and Patient Portal solutions provider, today announced the opening of a new office at Los Angeles, California to strengthen its national footprint and deliver better implementation and training support to its customers on the West Coast.
The company has decided to expand its New Jersey's office due to overwhelming response from the prospective customers and huge market potential in this region. The West coast location of iPatientCare will focus on Sales, Support and Implementation. Currently, the company is headquarted in Woodbridge, New Jersey, and the new office is located at 11811 WASHINGTON PL APT 106, Los Angeles, California.
"iPatientCare's customer base is steadily increasing on the West Coast, and hence, we wanted to ensure better and more focused support to our customers based in this region." said Udayan Mandavia, President/CEO of iPatientCare.
Recently, iPatientCare participated in HIMSS12 Annual Conference & Exhibition at the Venetian Sands Conference Center in Las Vegas, where the company received remarkable response from the channel partners, users and visitors.
About iPatientCare
iPatientCare is a privately held medical informatics company based in Woodbridge, New Jersey. The company is known for its Web-based Unified System, which integrates Electronic Health/Medical Record and Practice Management including Patient Portal and Mobile solutions that serve the ambulatory, acute/sub acute, emergency and home health market segments. iPatientCare EHR was among the first to be certified by CCHIT in July 2006 and is currently CCHIT 2011 Fully Certified and ONC-ATCB 2011/2012 Certified Complete EHR for Meaningful Use. The company has won numerous awards for its EHR technology and is recognized as an innovator in the field, being the first vendor to offer an EHR on a handheld device, the first to offer a SaaS (Software as a Service) based EHR product and is selected as a preferred Unified – EHR and PM - System by numerous Regional Extension Centers (REC), hospitals/health systems and academies.