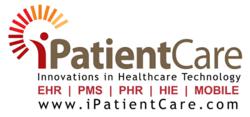 The focus of healthcare reforms is better health, better care, and reduced costs.
Woodbridge,New Jersey (PRWEB) February 16, 2012
iPatientCare, Inc., a pioneer in mobile healthcare computing and leading EHR and integrated Practice Management and Patient Portal solutions provider announced to participate at HIMSS12 Annual Conference & Exhibition at the Venetian Sands Conference Center in Las Vegas, February 21-24 2012. At the conference, the company will launch Release 12 of its application suite along with an iHealthCloud, a grand application platform for integrating enterprise applications through portals for patients and providers; and mobile applications operating on Apple, Android, and Windows systems seamlessly at the HIMSS Annual Conference & Exhibition.
"The focus of healthcare reforms is better health, better care, and reduced costs. iPatientCare being a pioneer of innovative mobile and SaaS based healthcare applications since 1997 has proven its leadership by not only evolving a unified EHR and Practice Management solution meant for physicians' offices but a cloud based applications framework to deliver technologies that help hospitals and health systems, community/public health systems, and ACO/IPA/MSO deliver better care at reduced costs through coordinated care across the continuum of care, home health monitoring, reducing hospital and ER admission/re-admissions, medication management, and patient registry for implementing patient-centric medical home and other P4P programs," said Udayan Mandavia, President/CEO of iPatientCare, Inc. Stressing the need for providing technology assisted chronic care management, John Bartley, MD, iPatientCare's Chief Medical Director said "…I am very proud of our physician users in taking a lead in understanding the significance of Meaningful Use EHR as a tool to provide enhanced care and better quality of life for the millions of lives they serve. What excites me the most is iPatientCare's ability to provide wide spectrum of technology solutions that range from practice based EHR/PM solutions that enable physicians/clinicians to practice evidence-based medicine at the point-of-care to community based HIE/PHR solutions that enable hospitals, health systems, IDN, and ACO/IPA/PHO to provide better transition of care across the continuum of healthcare delivery system."
"With the technology innovations leaping far ahead from good old client/server systems to SaaS and mobile app-based architecture, iPatientCare is the only end-to-end integrated application that is delivered as a truly Web browser based SaaS and app based mobile front-end on all three leading operating systems, namely, Apple, Android, and Windows! HIMSS being the largest healthcare technology show, is an ideal venue for launching our new generation of innovative technologies designed to provide pro-active and transition of care across the continuum of care," said Kedar Mehta, Chief Technology Officer, bubbling with enthusiasm and excitement of releasing his next-gen products.
About iPatientCare
iPatientCare is a privately held medical informatics company based in Woodbridge, New Jersey. The company is known for its Web-based Unified System, which integrates Electronic Health/Medical Record and Practice Management including Patient Portal and Mobile solutions that serve the ambulatory, acute/sub acute, emergency and home health market segments. iPatientCare EHR was among the first to be certified by CCHIT in July 2006 and is currently CCHIT 2011 Fully Certified and ONC-ATCB 2011/2012 Certified Complete EHR for Meaningful Use. The company has won numerous awards for its EHR technology and is recognized as an innovator in the field, being the first vendor to offer an EHR on a handheld device, the first to offer a SaaS (Software as a Service) based EHR product and is selected as a preferred Unified – EHR and PM - System by numerous Regional Extension Centers (REC), hospitals/health systems and academies. For more information, please visit http://www.ipatientcare.com and by calling 800-741-0981.
About HIMSS
HIMSS is a cause-based, not-for-profit organization exclusively focused on providing global leadership for the optimal use of information technology (IT) and management systems for the betterment of healthcare. Founded 51 years ago, HIMSS and its related organizations are headquartered in Chicago with additional offices in the United States, Europe and Asia. HIMSS represents more than 44,000 individual members, of which more than two thirds work in healthcare provider, governmental and not-for-profit organizations. HIMSS also includes over 570 corporate members and more than 170 not-for-profit organizations that share our mission of transforming healthcare through the effective use of information technology and management systems. HIMSS frames and leads healthcare practices and public policy through its content expertise, professional development, research initiatives, and media vehicles designed to promote information and management systems' contributions to improving the quality, safety, access, and cost-effectiveness of patient care. To learn more about HIMSS and to find out how to join us and our members in advancing our cause, please visit our website at http://www.himss.org.
# # #