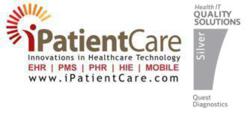 iPatientCare strengthens decade old relationship with Quest Diagnostics
Los Angeles, CA (PRWEB) August 28, 2012
iPatientCare, Inc., a pioneer in mHealth and cloud based ambulatory EHR, integrated Practice Management and Patient Portal solutions, got certified as a Silver Tier EHR vendor by Quest Diagnostics (http://www.questdiagnostics.com), leading provider of pathology/clinical laboratory testing, and providing insights that enable physicians and healthcare professionals to make better healthcare decisions. By continuously introducing new and improved tests, technology and services, Quest Diagnostics has established a reputation as the leading innovator in the clinical laboratory industry.
iPatientCare EHR solution demonstrated the advanced compatibility and functionality required by the marketplace for processing standard laboratory orders and results with the Quest Diagnostics Data Exchange network (DEX).
Jennifer Heitfeld, Quality Solutions Business Analyst, Quest Diagnostics said, "Quality EHR Solutions meet or exceed advanced industry standards and provide a streamlined solution with Quest Diagnostics for lab orders and results. Certification demonstrates an EHR Vendor's commitment to quality and leadership within the health IT industry."
"Our relationship with Quest Diagnostics has been as old as a decade, when a handful of ambulatory EHR vendors existed in the market and only a few invested in building and implementing electronic interface to Labs. iPatientCare built its own Interface Engine from ground up and was one of the pioneering EHR that implemented an electronic interface to Quest Diagnostics." said Shahab Shaikh, Enterprise Integration Specialist, iPatientCare. Commending her team for this achievement, Sidhdhi Gajjar, Healthcare Integrations Analyst commented, "My team and I are very happy and excited today to receive such an honor, especially after working hard on numerous integration assignments and implementing bi-directional interfaces to Quest Diagnostics."
About iPatientCare
iPatientCare, Inc. is a privately held medical informatics company based at Woodbridge, New Jersey. The company is known for its pioneering contribution to mHealth and Cloud based unified product suite that include Electronic Health/Medical Record and integrated Practice Management/Billing System, Patient Portal/PHR, Health Information Exchange (HIE), and mobile point-of-care solutions that serve the ambulatory, acute/sub acute, emergency and home health market segments.
iPatientCare EHR was among the first to be certified by CCHIT in July 2006 and is currently CCHIT 2011 fully certified and ONC-ATCB 2011/2012 Certified Complete EHR for Meaningful Use. The company has won numerous awards for its EHR technology and is recognized as an innovator in the field, being a pioneer to offer an EHR technology on a handheld device, an innovative First Responder technology to the US Army for its Theatre Medical Information System, the first to offer a Cloud based EHR product. iPatientCare is recognized as one of the best EHR and Integrated PM System for small and medium sized physicians' offices; has been awarded most number of industry Awards; and has been recognized as a preferred/MU partner by numerous Regional Extension Centers (REC), hospitals/health systems, and academies. Visit http://www.iPatientCare.com for more information.
Contact:
iPatientCare, Inc.
One Woodbridge Center, Suite 812, Woodbridge, New Jersey 07095
Phone: 800-741-0981 | Fax: 732.676.7667 | Email: info(at)ipatientcare(dot)com