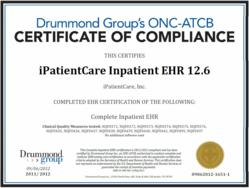 iPatientCare's Inpatient EHR users now qualify for MU Incentives as Eligible Hospital under the ARRA
Woodbridge, NJ (PRWEB) September 11, 2012
iPatientCare, Inc., a pioneer in mHealth and cloud based ambulatory EHR, integrated Practice Management and Patient Portal solutions, announced today iPatientCare Inpatient EHR 12.6, Company's flagship EHR product suite, receiving ONC-ATCB 2011/2012 Complete Inpatient EHR certification. This designation officially deems the electronic health record (EHR) software capable of enabling providers and hospitals to qualify for funding under the American Recovery and Reinvestment Act (ARRA). Tested and certified under the Drummond Group's Electronic Health Records Office of the National Coordinator Authorized Testing and Certification Body (ONC-ATCB) program, the EHR software is 2011/2012 compliant in accordance with the criteria adopted by the Secretary of Health and Human Services.
iPatientCare, Inc. is known for its pioneering effort and innovations in the domain of healthcare technology for more than 15 years and has also been deeply involved in evolving and implementing standards within the industry, and committed to remain compliant with the most recent standards and certifications. "We are proud to be one of the very few EHR products to get ONC-ATCB 2011/2012 Complete Ambulatory EHR certification in October 2010 and ONC-ATCB 2011/2012 Complete Inpatient EHR Certification now, thus proving our product leadership within the US healthcare IT space. This shows our commitment to iPatientCare users – individual providers, identified as Eligible Professionals by CMS, and institutional providers, such as, hospitals across the United States of America – in their quest for providing improved care and practicing evidence based medicine. iPatientCare is one of the rarest of rare HCIT vendors to have one single Web browser based core product that has been architected and developed ground-up using Microsoft .net Framework and SQL Server. There have been no third-party products that got "white-labeled" or acquired inorganically. I am extremely proud of my colleagues at iPatientCare and their hard-work, dedication, and genius in architecting and design," said Arnaz Bharucha, Senior Technology Officer, Inpatient EHR Product Group, iPatientCare, Inc.
"Committing to technology innovations for inpatient and outpatient care providers to provide better outcomes at lower costs meaningfully for 15 years is a challenge and we are very proud to have succeeded in accomplishing our business mission and goals year after year. Getting these innovations "certified" and "accredited" by the world-class standards is a true recognition of iPatientCare's vision as a leader in this space, engineering excellence, and process maturity allowing it to scale up rapidly. Adding ONC-ATCB 2011/2012 Complete Inpatient EHR Certification as one more feather in iPatientCare's cap is indeed a great achievement. We both are honored and feel very proud of our products, people, and processes.", said Kedar Mehta, CTO and Udayan Mandavia, CEO in a joint statement.
Drummond Group's ONC-ATCB 2011/2012 certification program tests and certifies that EHRs meet the meaningful use criteria for either eligible provider or hospital technology. In turn, healthcare providers using the EHR systems of certified vendors are qualified to receive federal stimulus monies upon demonstrating meaningful use of the technology -- a key component of the federal government's push to improve clinical care delivery through the adoption and effective use of EHRs by U.S. healthcare providers.
This Complete EHR Inpatient product is 2011/2012 compliant and has been certified by an ONC-ATCB in accordance with the applicable certification criteria adopted by the Secretary of Health and Human Services. This certification does not represent an endorsement by the U.S. Department of Health and Human Services or guarantee the receipt of incentive payments:
Product name: iPatientCare Inpatient EHR 12.6
Date Certified: 09/06/2012
Drummond Group Certification ID number: 09062012-1651-1
Clinical Quality Measures Certified: NQF0371, NQF0372, NQF0373, NQF0374, NQF0375, NQF0376,
NQF0435, NQF0436, NQF0437, NQF0438, NQF0439, NQF0440, NQF0441, NQF0495, NQF0497 (No additional software used)
About iPatientCare
iPatientCare, Inc. is a privately held medical informatics company based at Woodbridge, New Jersey. The company is known for its pioneering contribution to mHealth and Cloud based unified product suite that include Electronic Health/Medical Record and integrated Practice Management/Billing System, Patient Portal/PHR, Health Information Exchange (HIE), and mobile point-of-care solutions that serve the ambulatory, acute/sub acute, emergency and home health market segments.
iPatientCare EHR was among the first to be certified by CCHIT in July 2006 and is currently CCHIT 2011 fully certified and ONC-ATCB 2011/2012 Certified Complete EHR for Meaningful Use. The company has won numerous awards for its EHR technology and is recognized as an innovator in the field, being a pioneer to offer an EHR technology on a handheld device, an innovative First Responder technology to the US Army for its Theatre Medical Information System, the first to offer a Cloud based EHR product. iPatientCare is recognized as one of the best EHR and Integrated PM System for small and medium sized physicians' offices; has been awarded most number of industry Awards; and has been recognized as a preferred/MU partner by numerous Regional Extension Centers (REC), hospitals/health systems, and academies. Visit http://www.iPatientCare.com for more information.
About Drummond Group
Drummond Group Inc., the trusted software test lab, provides effective and efficient electronic health record (EHR) testing to healthcare information technology vendors and hospitals. As an Office of the National Coordinator Authorized Testing and Certification Body (ONC-ATCB), Drummond Group works closely with healthcare software vendors and hospitals to certify EHRs that are looking to qualify for incentive funds under the American Recovery and Reinvestment Act (ARRA). Drummond Group is approved to certify both complete and modular EHR for both ambulatory and inpatient. Leveraging more than a decade's worth of interoperability, conformance testing and certification experience in multiple industries, Drummond Group delivers what's needed in healthcare: highly reliable and readily affordable software testing services. For more information, go to http://www.drummondgroup.com.