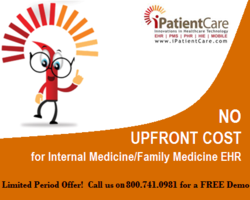 We chose iPatientCare because of the ease of use, Meaningful Use dashboard and related self-paced training modules they provide, and of course, the company's ability to serve small offices
Desoto, TX (PRWEB) January 23, 2013
iPatientCare, a market leader in Meaningful Use Certified Ambulatory EHR, today announced that Grace and Mercy Health Clinic, a practice based out of Desoto, Texas, has chosen iPatientCare comprehensive Electronic Health Records (EHR) solution after carefully evaluating many competing choices available to them as Meaningful Use certified EHR technology. This adds to the already huge number of iPatientCare users within the State of Texas.
"We chose iPatientCare because of the ease of use, Meaningful Use dashboard and related self-paced training modules they provide, and of course, the company's ability to serve small offices. We have been in touch with them for more than two years and have watched them grow slowly but steadily. With their commitment to product innovations and providing personalized support, we feel very secure and confident that not only we will meet our goals of meeting Meaningful Use requirements but we will be able to use their value-added services and product suite to grow our own medical practice", said Ivory Garrett Price, MD, Grace and Mercy Health Clinic.
"We have been committed to the State of Texas all these years and look forward to having more happy and satisfied customers with inclusion of Grace and Mercy Health Clinic to iPatientCare fold", said Anand Panchal, National Sales Manager, iPatientCare, Inc.
About iPatientCare
iPatientCare, Inc. is a privately held medical informatics company based at Woodbridge, New Jersey. The company is known for its pioneering contribution to mHealth and Cloud based unified product suite that include Electronic Health/Medical Record and integrated Practice Management/Billing System, Patient Portal/PHR, Health Information Exchange (HIE), and mobile point-of-care solutions that serve the ambulatory, acute/sub acute, emergency and home health market segments. iPatientCare EHR was among the first to be certified by CCHIT in July 2006 and is currently CCHIT 2011 fully certified and ONC-ATCB 2011/2012 Certified Complete EHR for Meaningful Use.
The company has won numerous awards for its EHR technology and is recognized as an innovator in the field, being a pioneer to offer an EHR technology on a handheld device, an innovative First Responder technology to the US Army for its Theatre Medical Information System, the first to offer a Cloud based EHR product. iPatientCare is recognized as one of the best EHR and Integrated PM System for small and medium sized physicians' offices; has been awarded most number of industry Awards; and has been recognized as a preferred/MU partner by numerous Regional Extension Centers (REC), hospitals/health systems, and academies. Visit http://www.iPatientCare.com for more information.