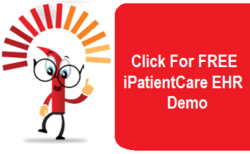 We chose iPatientCare because of its successful track record of implementing Meaningful Use EHR technology at thousands of Primary Care Practices
Roseville, MI (PRWEB) December 27, 2012
iPatientCare, a market leader in Meaningful Use Certified Ambulatory EHR, today announced that Family Practice Care PLLC, a multi-specialty practice in Warren, Michigan, has chosen iPatientCare Electronic Health Records (EHR) solution after carefully evaluating many competing choices available to them as Meaningful Use certified EHR technology. This adds to the already huge number of iPatientCare users within the State of Michigan.
"We chose iPatientCare because of its successful track record of implementing Meaningful Use EHR technology at thousands of primary care practices. Another reason for choosing iPatientCare was the confidence they instilled in us while convincing us that they can implement the EHR in time for this year's Meaningful Use deadline. With more than eight providers today and growing, we needed a product that scales up to our operations, satisfied our expectation of the speed because we a very busy practice, and also from a company which can provide us with an extra-ordinary implementation, training, and ongoing support. We decided to go with iPatientCare EHR towards the end of August and were amazed to see them deploying their competent professionals so quickly that we were live by October 1st! I am yet to hear any EHR going live within such a short duration", said Saima Khan, MD, Family Practice Care.
"iPatientCare EHR is indeed extremely easy-to-use, intuitive, and customizable to implement our practice's workflow appropriately. We have providers who have been practicing medicine for more than 40 years and I am amazed to see them charting electronically using iPatientCare", continued Saima Khan, MD.
About iPatientCare
iPatientCare, Inc. is a privately held medical informatics company based at Woodbridge, New Jersey. The company is known for its pioneering contribution to mHealth and Cloud based unified product suite that include Electronic Health/Medical Record and integrated Practice Management/Billing System, Patient Portal/PHR, Health Information Exchange (HIE), and mobile point-of-care solutions that serve the ambulatory, acute/sub acute, emergency and home health market segments. iPatientCare EHR was among the first to be certified by CCHIT in July 2006 and is currently CCHIT 2011 fully certified and ONC-ATCB 2011/2012 Certified Complete EHR for Meaningful Use.
The company has won numerous awards for its EHR technology and is recognized as an innovator in the field, being a pioneer to offer an EHR technology on a handheld device, an innovative First Responder technology to the US Army for its Theatre Medical Information System, the first to offer a Cloud based EHR product. iPatientCare is recognized as one of the best EHR and Integrated PM System for small and medium sized physicians' offices; has been awarded most number of industry Awards; and has been recognized as a preferred/MU partner by numerous Regional Extension Centers (REC), hospitals/health systems, and academies. Visit http://www.iPatientCare.com for more information.