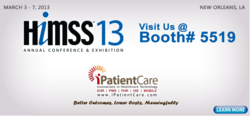 Visit our iPatientCare Booth# 5519 to discuss partnership relationships and strategic growth opportunities.
Looking forward to meeting with you at HIMSS13
New Orleans, LA (PRWEB) January 30, 2013
iPatientCare, Inc., a pioneer in mobile healthcare computing and leading EHR and integrated Practice Management and Patient Portal solutions provider announced today that company will be participating at HIMSS13 Annual Conference & Exhibition to be held at Ernest N. Morial Convention Center, New Orleans, March 03-07, 2013.
At the conference, iPatientCare will unleash its Mobile Point-Of-Care Solutions – mEHR and mPHR. It will also exhibit iPatientCare R13 that is designed to meet with the challenges faced by the nation's healthcare IT – Better Outcomes, Lower Costs, Meaningfully. iPatientCare R13 is a break-through applications framework that is based on core systems of EHR and integrated Practice Management and builds Enterprise Integration Brokers, Referral Tracking & Care Coordination Portal, Patient Engagement Suite consisting of Patient Portal and mHealth apps, and Enterprise Analytics/Reporting application to leverage iPatientCare data warehousing/mining and BI technologies.
iPatientCare is one of the only few national level EHR vendors having both – Ambulatory and Inpatient EHR applications certified for the Meaningful Use.
"With the focus of US healthcare IT shifting to Accountable Care and Value based Purchasing, iPatientCare is poised to take a giant leap into Care Management, Patient Engagement, and Reporting/Analytics based on its innovative, all encompassing product suite iPatientCare R13 consisting of Meaningful Use certified Ambulatory and Inpatient EHR and integrated products. Visit our iPatientCare Booth# 5519 to discuss partnership relationships and strategic growth opportunities. Looking forward to meeting with you at HIMSS 13", said Kedar Mehta, CTO, iPatientCare, Inc., with enthusiasm and excitement of showcasing his next-gen products.
About HIMSS
HIMSS is a cause-based, not-for-profit organization exclusively focused on providing global leadership for the optimal use of information technology (IT) and management systems for the betterment of healthcare. Founded 52 years ago, HIMSS and its related organizations are headquartered in Chicago with additional offices in the United States, Europe and Asia. HIMSS represents nearly 50,000 individual members, of which more than two thirds work in healthcare provider, governmental and not-for-profit organizations. HIMSS also includes over 570 corporate members and more than 225 not-for-profit partner organizations that share our mission of transforming healthcare through the effective use of information technology and management systems. HIMSS frames and leads healthcare practices and public policy through its content expertise, professional development, research initiatives, and media vehicles designed to promote information and management systems' contributions to improving the quality, safety, access, and cost-effectiveness of patient care. To learn more about HIMSS and to find out how to join us and our members in advancing our cause, please visit our website at http://www.himss.org
About iPatientCare
iPatientCare, Inc. is a privately held medical informatics company based at Woodbridge, New Jersey. The company is known for its pioneering contribution to mHealth and Cloud based unified product suite that include Electronic Health/Medical Record and integrated Practice Management/Billing System, Patient Portal/PHR, Health Information Exchange (HIE), and mobile point-of-care solutions that serve the ambulatory, acute/sub acute, emergency and home health market segments. iPatientCare EHR was among the first to be certified by CCHIT in July 2006 and is currently CCHIT 2011 fully certified and ONC-ATCB 2011/2012 Certified Complete EHR for Meaningful Use.
The company has won numerous awards for its EHR technology and is recognized as an innovator in the field, being a pioneer to offer an EHR technology on a handheld device, an innovative First Responder technology to the US Army for its Theatre Medical Information System, the first to offer a Cloud based EHR product. iPatientCare is recognized as one of the best EHR and Integrated PM System for small and medium sized physicians' offices; has been awarded most number of industry Awards; and has been recognized as a preferred/MU partner by numerous Regional Extension Centers (REC), hospitals/health systems, and academies. Visit http://www.iPatientCare.com for more information.