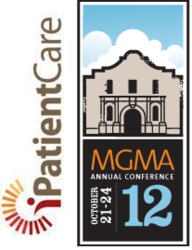 Visit us at MGMA 12 at iPatientCare Booth # 1040 on Oct 21 - 24, San Antonio, TX.
San Antonio, TX (PRWEB) October 04, 2012
iPatientCare, Inc., a pioneer in mHealth and cloud based ambulatory EHR, integrated Practice Management and Patient Portal solutions, and now ONC-ATCB 2011/2012 certified complete Inpatient EHR, announced to launch an enhanced version of its Practice Management System to provide institutional billing capabilities to address the Meaningful Use requirements of RHC and CHC/FQHC at MGMA 2012 Annual Conference at the San Antonio, Texas, October 21-24, 2012.
iPatientCare has been a pioneer in providing a unified architecture for EHR and Practice Management System to Ambulatory market space. Providing excellent quality of products and support have been iPatientCare's fundamental values and these have helped iPatientCare grow multifold in last decade. With a strong background in designing and developing a physician centric unified product, iPatientCare is also known for its path-breaking work with the United State Army in terms of mobile computing and leadership position in providing a complete EHR, Practice Management, and patient self check-in on iPad, Android, and Windows tablets. The company also plans to unveil its Microsoft Surface PC based app suite in its upcoming National User Conference – NUCON 2012 at Hyatt Regency, Chicago, Nov 2-4, 2012.
"Serving numerous ambulatory group practices through an integrated system that combines the best of EHR for physicians and clinicians and an efficient practice management system for the scheduling and billing has been our passion. Expanding our capabilities to serve institutional billing puts us as one of the only five vendors that have such a unique capability to serve the ambulatory market space through a Certified EHR and PM technology, proven and ready to be utilized as Web based or on premise hosting. We stand committed to working with MGMA in serving this space and looking forward to making newer connection at San Antonio," said Udayan Mandavia, President/CEO, iPatientCare, Inc.
About iPatientCare
iPatientCare, Inc. is a privately held medical informatics company based at Woodbridge, New Jersey. The company is known for its pioneering contribution to mHealth and Cloud based unified product suite that include Electronic Health/Medical Record and integrated Practice Management/Billing System, Patient Portal/PHR, Health Information Exchange (HIE), and mobile point-of-care solutions that serve the ambulatory, acute/sub acute, emergency and home health market segments.
iPatientCare EHR was among the first to be certified by CCHIT in July 2006 and is currently CCHIT 2011 fully certified and ONC-ATCB 2011/2012 Certified Complete EHR for Meaningful Use. The company has won numerous awards for its EHR technology and Mobile applications and is recognized as an innovator in the field, being a pioneer to offer an EHR technology on a handheld device, an innovative First Responder technology to the US Army for its Theatre Medical Information System, the first to offer a Cloud based EHR product. iPatientCare is recognized as one of the best EHR and Integrated PM System for small and medium sized physicians' offices; has been awarded most number of industry Awards; and has been recognized as a preferred solution/MU partner by numerous Regional Extension Centers (REC), hospitals/health systems, and academies. Visit http://www.iPatientCare.com for more information.