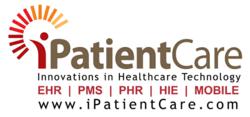 R12 addressing most of the MU Stage 2 requirements getting released, vindicating the vision and foresight of iPatientCare.
Woodbridge, NJ (PRWEB) February 29, 2012
iPatientCare, Inc., a pioneer in mobile healthcare computing and leading EHR and integrated Practice Management and Patient Portal solutions provider successfully launched iPatientCare R12 application suite along with the iHealthCloud technology platform at HIMSS12 Annual Conference & Exhibition at the Venetian Sands Conference Center in Las Vegas last week.
It was a pleasant surprise to iPatientCare users to have iPatientCare R12 launch aligned with the announcement of Meaningful Use Stage 2 requirements by CMS at HIMSS12, and most of those present at HIMSS12 were very excited to find R12 addressing most of the MU Stage 2 requirements getting released, vindicating the vision and foresight of iPatientCare. Some of the requirements that will be addressed by iPatientCare R12, which are included as Meaningful Use Stage 2 requirements include support of ICD-10, LOINC, RxNORM etc., implementation of leading IHE profiles for connecting to various disease specific (e.g. cancer) registries, supporting the Direct protocol for secure clinical messaging, and generating clinical quality measures as identified by PQRI, PCMH, and NCQA.
"iPatientCare always believed in engaging healthcare consumers by giving them an easy but secure access to their own health record; and to that effect, had launched the first version of its Patient Portal way back in 2005! Since then, the Portal has evolved as a mature and independent product that integrates with rest of the iPatientCare suite of products and with third-party EHR systems as well…" said Udayan Mandavia, President/CEO of the Corporation. "A preview of our Patient Kiosk solution was provided to iPatientCare users and channel partners during iPatientCare User Conference 2011 held last November, and was received enthusiastically by all attendees", announced Kedar Mehta, Chief Technology Officer, iPatientCare, Inc.
iPatientCare's exhibits attracted numerous foreign attendees and businesses to explore more about iPatientCare products, especially, mobile apps and provider/patient portals. Commenting on the ease of use and simplicity of iPatientCare's design, said Joseph Pater, Director, Regional Extension Center, Case Western Reserve University, "I wonder why other EHR have not thought about designing Chart Summary and Visit Notes as crisp and appealing as that are delivered by iPatientCare!"
As part of its continued commitment to integrate multitude of products and services portfolio through iPatientCare technology platform, iPatientCare also announced strategic business alliances with leading complimentary technology solutions providers at HIMSS 2012.
About iPatientCare
iPatientCare is a privately held medical informatics company based in Woodbridge, New Jersey. The company is known for its Web-based Unified System, which integrates Electronic Health/Medical Record and Practice Management including Patient Portal and Mobile solutions that serve the ambulatory, acute/sub acute, emergency and home health market segments. iPatientCare EHR was among the first to be certified by CCHIT in July 2006 and is currently CCHIT 2011 Fully Certified and ONC-ATCB 2011/2012 Certified Complete EHR for Meaningful Use. The company has won numerous awards for its EHR technology and is recognized as an innovator in the field, being the first vendor to offer an EHR on a handheld device, the first to offer a SaaS (Software as a Service) based EHR product and is selected as a preferred Unified – EHR and PM - System by numerous Regional Extension Centers (REC), hospitals/health systems and academies.
###