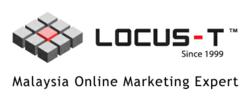 We wish to see the positive growth of confidence from Malaysia e-commerce player with right, fast & effective search marketing tools
Petaling Jaya, Selangor (PRWEB) May 18, 2012
LOCUS-T and iPay88 begun a successful collaboration today to allow for comprehensive services to be made available for its clients, by providing them with an easy to maneuver site equipped with e-commerce abilities, making transactions online safe and easy to operate through Pay Per Click(PPC).
Tailored to maximize services at LOCUS-T, joining ranks with iPay88 will enable clients of LOCUS-T to experience a new dimension of their e-commerce store. Through their expertise in search marketing, LOCUS-T will enable iPay88 to widen its strengths to reach its wide customer base.
With the rise of the Internet, PPC has become an essential tool for all companies dealing with E-Commerce, as it not only helps generate targeted traffic but provides a platform to advertise services on popular sites like Google and Yahoo.
PPC services enable ads to be featured online within a day creating immediate exposure due to its fast and easy to operate nature. These services put the company in control of their advertising budget, as the system of cost per click (CPC) can be used and no limitation exist in terms of keywords hence creating a larger reach.
The ability to reach targeted audience is cost effective, with no limits in terms of time, running ads as long as the company might require it to run, PPC is an effective E-Commerce solution for businesses. Foreseeing a positive impact of the collaboration with iPay88, Joseph, Head of Sales at LOCUS-T further added that;
"We wish to see the positive growth of confidence from Malaysia e-commerce player with right, fast & effective search marketing tools," he said.
iPay88 customers will also benefit from this collaboration, as no professional fee is incurred, will put them in the running to grab RM300 worth of Google vouchers courtesy of LOCUS-T during this campaign period.
According to Chan, Chief Executive Officer(CEO) of iPay88, this collaboration with LOCUS-T, Malaysia's Search Marketing Expert will provide added value to their customers and maximize the exposure of their e-commerce store."
With 12 years of experience in Malaysia & Singapore, LOCUS-T provides online marketing strategies and web development services to improve their clients' online business presence and its collaboration with iPay88 that enables online stores to accept comprehensive payment options to complete a sales transaction securely over the internet will only prove to increase options for both their potential customers.
About LOCUS-T:
LOCUS-T is a search marketing expert, offering clients a wealth of expertise in the areas of SEO, PPC, Online Reputation Management and E-Commerce Plus. It is the first home grown Malaysian Internet Marketing Company to be certified as Google Adwords Partner, it serves not only as the reseller of Yahoo! Search Marketing (SEA) Authorized Reseller, but also hold a prominent role as an Official PayPal Partner
For more information, please visit LOCUS-T at http://www.locus-t.com or email LOCUS-T at web(at)locus-t(dot)com.