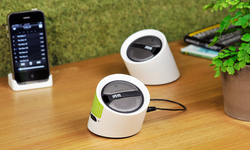 Tubular is Bluetooth-enabled, and can be used in conjunction with any Bluetooth music player.
San Jose, CA (PRWEB) January 4, 2010
IPEVO, Inc., an Internet-based technology company, has just announced a January 4th, 2010 release date for the global launch of its newest product--Tubular Wireless Speakers.Tubular consists of two, three-watt speakers that can be connected for two-way stereo sound. Tubular is Bluetooth-enabled, and can be used in conjunction with any Bluetooth music player. This includes personal computers and laptops, mobile phones, and Apple iPod players, including the latest generation of iPod Touch players.
Tubular gets its name from the unique design of its interlocking left and right speakers. Speakers come locked together in a tube shape, and can be separated and rejoined with a gentle twist. This lightweight, compact, and modern design ensures the speakers will remain together for easy portability. The speaker tube weighs 9.5 ounces (270 grams) and has dimensions of 2.5 x 5.5 x 2.9 inches (75 x 140 x 75 mms).
Bluetooth pairing is achieved through a multifunction button on the primary speaker, which also turns the unit on and off. Two other buttons control volume. And with certain Bluetooth devices, the three buttons together can also be used to navigate through tracks and accomplish play and pause functions.
In addition to wireless convenience--Tubular can be operated at a standard distance of up to 32 feet (10 meters)--a key advantage of Tubular's Bluetooth is the ability for the user to control speaker output using their own music player as the remote control. This eliminates the need for another remote control, and provides the user with a comfortable and accustomed interface to navigate, shuffle, and play tracks.
With its rechargeable lithium ion battery, Tubular has a playback time of up to 8 hours on a single charge, and standby time of up to 100 hours. Charging takes approximately 2 hours, and is achieved via the main speaker's charging cord, which can be plugged into any standard USB port. Speakers are connected for two-way stereo sound via a 2.5mm stereo cable on the secondary speaker, although the user can elect to use only the primary speaker for mono output. Both charging cord and stereo cable are intended to be wound on a rotating rubber spool on the bottom of their respective speaker, for additional convenience and as part of the compact design.
IPEVO's Tubular Wireless Speakers are scheduled for a worldwide release in January, and will be available exclusively through the company's online store at http://store.ipevo.com, at a price of $79.
For more information about Tubular, please also check the unboxing video http://www.youtube.com/watch?v=sa0E7MWQZFc
About IPEVO
IPEVO designs and manufactures Internet-based devices that enhance the Internet experience. Renowned for its iconic line of best-selling VoIP hardware, IPEVO has established a reputation for developing award-winning designs and innovative products to help connect to, communicate with, and share the world around us. For more information, visit http://www.ipevo.com.
# # #