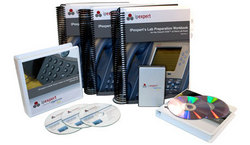 CCIE Voice 3.0 Blended Learning Solution is the most up-to-date, thorough, well supported and well rounded product on the market.
East China, MI (PRWEB) June 9, 2010
Less than 22,000 individuals worldwide currently hold the CCIE (Cisco Certified Internetworking Expert) certification. This industry-recognized designation offered by Cisco Systems, Inc. distinguishes network engineers as the most the elite in the computer networking profession. Within this distinguished group of certified professionals, less than 1,500 of these industry experts have honed in the Voice specialization; the CCIE Voice certification. CCIE Voice certified engineers are some of the world's highest paid and most sought after engineers. They're typically found managing, designing and installing IP-based Cisco telephony systems and infrastructures.
To become CCIE Voice certified, senior engineers spend upwards of 2 to 4 years preparing for an exhaustive 8-hour long hands-on "lab" exam conducted by Cisco, the global leader in computer networking solutions. IPexpert is a CCIE training organization, focused on preparing seasoned computer network engineers for these industry-recognized and distinguished exams, through various learning solutions including self-study workbooks, video tutorials, video classes, audio courses, online equipment, live online mentoring and instructor-led training courses.
IPexpert's Founder & CEO, Wayne A. Lawson II says, "IPexpert is pleased to grow on its record as the world leader in CCIE lab training with our first-to-market complete self-study resource, the Blended Learning Solution (BLS) for CCIE Voice 3.0 candidates. We've become the "go to organization" for CCIE Voice training, and we remain focused on this certification, and this track."
IPexpert's CCIE Voice 3.0 BLS consists of 4 self-study CCIE Voice workbooks, a CCIE Voice video on demand class, a CCIE Voice audio on demand class and video tutorials for all workbook material. IPexpert's portfolio also provides students with 400 hours of access to a collection of Cisco Voice hardware and applications so students can gain the vital "hands on" preparation over the internet, regardless of their geographical location. IPexpert also provides free online mentoring to all of their students so they can be trained on various topics and technologies that are seen on this grueling exam.
About IPexpert:
Founded in 2001, IPexpert is the leading training company for computer networking engineers pursuing the highest-level career certification offered by Cisco Systems, the coveted CCIE certification. IPexpert has become the global leader serving its niche CCIE market, boasting the largest offering of self-study training products, instructor led courses and online hardware available for rental. IPexpert has trained more CCIE Voice engineers than any training entity, worldwide. Visit http://www.ipexpert.com for more information.
Contact
Contact Information:
Wayne Lawson II
IPexpert, Inc.
3100 King Road Suite B
China, Michigan, USA 48054
Telephone: +1.810.326.1444
Email: wlawson(at)ipexpert(dot)com
# # #