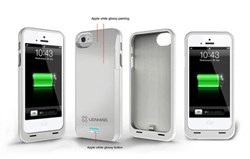 Denver, CO (PRWEB) January 12, 2013
According to the company, iPhone 5 is one of the hottest smartphones available today, appealing to buyers of all ages and financial resources.
The significant app potential and quality tech specs have convinced buyers to make this particular purchase, prompting a research for iPhone 5 compatible accessories, particularly a high demand for iPhone 5 battery cases.
Until earlier this year, there was only one battery case producer that had Apple's MFI certification. The http://www.iPhone5Batterycase.net announces a second producer made it to that list, Lenmar Meridian.
There are dozens of products available today that aim to increase battery life on iPhone 5. However, only two of the producers on the market have Apple's MFI certificate needed since the company changed the Lightning connector with iPhone 5. "Made For iPhone" is a certification Apple gives producers that want to manufacture accessories for the device.
The iPhone 5 Battery case must meet a few requirements to justify a purchase that oftentimes peaks towards the $100 mark. There are particular requirements for certification such as design, quality, durability and actual protection, as well as a powerful in-built battery. The Lenmar Meridian battery case for iPhone 5 is 138mm x 65mm x 15mm and is currently available in three colors that pertain to iPhone 5's unique design (Rubberized Black, Glossy White and Metallic Red).
According to the website, tech specs for the Lenmar Meridian iPhone 5 Battery case as well as selling pitch promise it will double the battery's lifetime to withstand more talk, text, picture taking and app usage. This iPhone 5 case features an in-built battery with a 2300mAh capacity that is rechargeable, an on-off power button, a LED power indicator and access to all buttons and ports on the device. For the moment, the Lenmar Meridian iPhone 5 battery case is available in pre-order, but shipping to consumers is set to start in the first week of February 2013. It sells for $89.99 and comes with one year warranty.
For more information on iPhone 5 battery cases, as well as full product reviews, tech specs and discounts, please visit http://www.iPhone5BatteryCase.net
iPhone 5 Battery case is a website that pertains to power accessories for iPhone 5, aiming to become a comprehensive source of information for the buyer new to the battery case market. Reviews for battery cases include mAh power, design, durability, brand quality and popularity, price tag, potential discounts, Apple's MFI certification, consumer feedback, product comparisons and so on.
The website monitors every new iPhone 5 accessory released that promises to increase battery life. The only purpose of this website is to deliver accurate reviews and news that buyers need to make informed buying decisions when it comes to iPhone 5 battery cases. The website does not discriminate between popular, premium, low-cost or unknown brands when selecting battery cases to review.