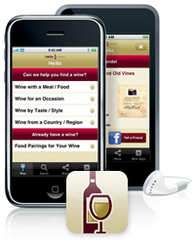 5 Must-Have iPhone Apps for Wine Lovers
Modesto, CA (PRWEB) May 24, 2010
The free Hello Vino iPhone app has served over 5 million wine brand recommendations since its release in June, 2009, and now offers valuable information about wines reviewed on popular blogs and online publications.
The new "Reviews" section within the free Hello Vino app will provide consumers with wine reviews and recommendations in a mobile-friendly format, while also linking to the respective authors' web sites. Consumers are also able to interact with the authors, share the wines, and save their favorite reviews within the app.
Contributors include Certified Specialists of Wine (CSW), Certified Wine Educators (CWE), and sommeliers certified by the Master Court of Sommeliers. Highly esteemed wine writer Bill Daley of the Chicago Tribune, Joe Roberts (CSW) of 1winedude.com, and Elizabeth Schneider (CSW and sommelier) of normalwine.com are a few of the talented oenophiles lending their expertise within the new "Reviews" section of Hello Vino.
"We are excited to collaborate with this talented group of writers to extend their reach and deliver value to an audience of wine consumers through our mobile apps," said Hello Vino Co-Founder, Jim McNamee. "The combination of professional and peer reviews creates a robust source of trusted wine recommendations from a wide variety of palates."
For more information on the new features including author profiles, please visit: http://www.hellovino.com/reviews
The free Hello Vino app can be downloaded from iTunes, or at http://www.hellovino.com
Hello Vino ranks #1 for the "5 Must-Have iPhone Apps for Wine Lovers" on Mashable.com and #1 on the "Top 50 Wine iPhone Apps" report by Vintank, a digital think tank for the wine industry. The free iPhone app assists wine consumers with their purchase decisions by offering wine recommendations to match their meals, taste preferences, or specific occasions.
About Hello Vino
Hello Vino, a free wine recommendation service available on any mobile device, can be accessed through its free iPhone app, mobile Web site, or standard text messaging service (SMS). Hello Vino delivers customized wine recommendations to PCs and mobile phones, allowing wine consumers to choose the perfect bottle for a meal, occasions and gifts, by tastes, or by regions of the world. More information, including video demonstrations and free downloads, available at http://www.HelloVino.com
Contact:
Jim McNamee
800-599-8478 ext 702
jim(at)hellovino(dot)com
# # #