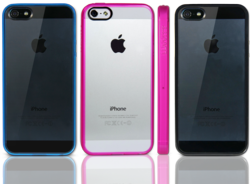 The LUVVITT ® CLEARVIEW CASE has a clear, durable back, with a border of color, for a perfectly safe and undeniably chic look.
New York, New York (PRWEB) January 07, 2013
LUVVITT® has taken yet another bite out of the Apple accessories market as CEO Eli Altaras prepares to launch the new face of the iPhone 5 case. The arrival of 2013 brings with it the arrival of the LUVVITT® CLEARVIEW Scratch-Resistant and Flash Friendly Slim Case for the iPhone 5. LUVVITT® is known for protecting and enhancing your favorite mobile devices, as the "Apple accessories experts" they have yet again brought you another product that provides drop protection on all four sides for the iPhone.
The LUVVITT ® CLEARVIEW CASE has a clear, durable back, with a border of color, for a perfectly safe and undeniably chic look. This is a hybrid case with a hard back and a soft frame, a small lip hugs the front of the iPhone 5 allowing you to set the phone down on any surface yet protecting the screen at the same time. iPhone 5 owners, prepare yourselves for a savory selection of seven pops of color: crystal clear, classic black, vanilla white, fuchsia pink, blueberry blue, along with two transparent options, smoky black and delicate pink.
The CLEARVIEW CASE has a scratch-resistant coating, both inside and out, so you are fully equipped to endure daily scratches and scuffs. Your iPhone 5 will be safe and sound inside its CLEARVIEW grip, with just enough access to simpify your needs. Plug in your headphones and charge your iPhone 5 without ever having to remove your CLEARVIEW CASE. This advanced case also ensures 100% accuracy when taking photos, you can even expect clear pictures in the dark without blurs thanks to the camera hole that complies with Apple design guidelines and passes all Apple camera flash tests.
Snapping pictures in style is made easy with the LUVVITT ® CLEARVIEW CASE camera lens opening, which gives every iPhone 5 a perfectly clear view. Protection and convenience never looked so good. "We are so excited about this product. It has a classic crystal shell that comes alive with just a hint of color. We will be debuting and showcasing the CLEARVIEW CASE at the 2013 International CES® show next month," said LUVVITT® CEO Eli Altaras.
The LUVVITT ® CLEARVIEW CASE is available now for $19.95 on http://www.LUVVITT.com. To get a first look at the CLEARVIEW CASE and six other LUVVITT ® debuts, stop by Booth 4102 at the 2013 International CES® in Las Vegas January 8th to January 11, 2013, at the Las Vegas Convention Center.
About LUVVITT® (http://www.LUVVITT.com): LUVVITT® is the mobile accessories leader when it comes to cutting edge creations, delivering both practical, fashion-forward cases and covers for smartphones and tablets. Known as the Apple accessories experts, LUVVITT® takes pride in producing high quality, innovative designs that enhance and protect your valuable devices. From iPhones and iPads of all sizes, to Samsung products and other tablets, LUVVITT® is committed to creating the slimmest, lightest designs that combine fashion and function. Protect what you love with LUVVITT® top of the line accessories and wrap it, before you tap it!
# # #