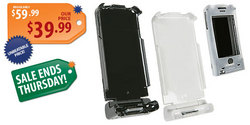 We used this portable iPhone charger with our own iPhones and we absolutely loved them
San Antonio, TX (PRWEB) July 8, 2008
Milliamp LTD has just added a sleek new portable iPhone charger to their line-up of accessories for the Apple iPod and iPhone.
This particular charger has a 2200 mAh battery inside the svelte plastic case, which is more than enough power to charge the 1400 mAh battery inside an iPhone. And because it is portable, the iPhone charging station can be carried in a briefcase, glove box, or pocket until you need an extra boost of power.
"We used this portable iPhone charger with our own iPhones and we absolutely loved them," said Anthony Magnabosco, the owner of iPod repair company Milliamp LTD.
The charger has a hinge that lets you keep the iPhone propped up on your desk, or it can fold up to keep the cell phone perpendicular to the base.
After you charge up the portable iPhone charger using the USB cable that was included with your iPhone, it is ready to go. Your iPhone will work while it is connected to the portable charger, which is a big plus for people on the go.
"This is the highest-capacity iPhone charger available in the marketplace today," added Magnabosco.
The charger comes in shiny white or black plastic, and also includes a clear neoprene cover that slips over the whole thing to keep it extra snug and protected.
Milliamp LTD has iPod chargers and iPhone chargers in stock and ready to ship.
Milliamp LTD and the ipodjuice.com website are in no way associated with Apple Computer, Inc., just in case there was any confusion.
'Apple', 'iPod', and 'iPhone' are trademarks of Apple Computer, Inc., registered in the U.S. and other countries.
###