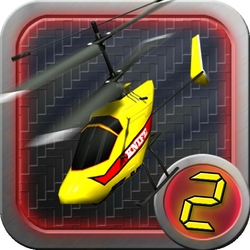 We rebuilt RC Heli 2 from the ground up, with all new physics, stunning 3D graphics, a much more immersive environment and special optimizations for both the iPad 2 and iPhone 4
Chicago, IL (PRWEB) April 21, 2011
Frozen Pepper, iDev2 and Ethervision have teamed up again to unveil RC Heli 2, a revolutionary dual binary iPad and iPhone application that offers the ultimate in radio controlled helicopter flight simulation paired with exciting race, stunt and combat challenges.
"Our original RC Heli and RC Heli Gold applications were downloaded by over two million people, and we received a huge amount of positive feedback," enthuses Ottavio Radicati, Founder of Frozen Pepper and creator of RC Heli 2. "That definitely inspired us to take things to the next level for our users. So, we rebuilt RC Heli 2 from the ground up, with all new physics, stunning 3D graphics, a much more immersive environment and special optimizations for both the iPad 2 and iPhone 4."
RC Heli 2 offers an array of game modes and options designed to fit everyone from newly minted Heli flyers to the most experienced veteran pilots. "Users can choose from a wide variety of 3 or 4 Channel Helis, including a customizable Stunt Heli and the new gravity defying UFOs," says Aaron Basil, Development Chief for Ethervision. "We've been told by many radio control aficionados that RC Heli 2 offers a remarkable similarity to the experience of flying an actual radio controlled helicopter." Game modes include Race, which allows users to fly through a spectacular three story 3D house collecting coins along the way, and Free Flight, which offers the opportunity to explore the house and refine flying skills. The new action packed Combat Mission mode is also available, which includes six different missions and two Combat Helis designed to do battle with soldiers, tanks and missile turrets.
"We are really proud to offer an application like this, which appeals to both traditional radio control enthusiasts and mainstream gamers alike," says Randall Cross, President of Ethervision. "This is just the beginning for our lineup of RC Heli apps, and we're excited to be part of such a leading edge team. There are definitely more surprises ahead, so stay tuned!" enthuses Cross.
The RC Heli 2 application can be purchased for $1.99 on iTunes, and comes bundled with two 3 Channel Helis, one 4 Channel Heli, seven different races and Free Flight. Also available for in-app purchase are six additional Helis, two UFOs and the all-new Combat Mission mode.
For more information on RC Heli 2 and other iPhone and iPad applications, check out http://frozenpepper.it or http://ethervision.net, write to info(at)ethervision(dot)net or call 312.870.0080.
###