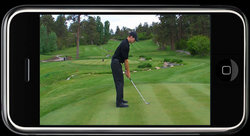 "...you don't just get seven-plus hours of videos on your iPhone, you get an additional thirteen hours when logged in on your computer."
Windermere, FL (PRWEB) July 14, 2010
Recently, Rotary Swing Golf announced that more than 60 Rotary Swing Tour (RST) golf instruction videos on its RotarySwing.com website are available for viewing on Apple's iPhone, iPod Touch, and the iPad. Both Free and Premium Members can enjoy this functionality, which was designed in response to member feedback and a general lack of extensive content for those seeking iPhone golf videos.
Though not an iPhone "app" in the traditional sense, RotarySwing.com's iPhone functionality was designed by company founder Chuck Quinton to work as smoothly as the best apps on the market, but all along Quinton planned for his service to far exceed the capabilities of a typical app.
"This provides a lot more than a traditional iPhone golf app because you don't just get seven-plus hours of videos on your iPhone, you get an additional thirteen hours when logged in on your computer," Quinton said. "There's also no installation on your iPhone and the easy-to-use interface will remind you of your favorite apps."
The new functionality required some significant programming changes but greatly improves membership value for many of the site's members, according to Quinton.
"We've been getting lots of feedback from members who have been replacing in-person golf lessons from local teaching professionals with our video golf instruction," Quinton said. "We've actually grown in this tough economy, in part because of the tremendous value we offer. For the cost of a one hour in-person golf lesson, you can access several hours of instruction on our website for three months, six months, even a year or longer, depending on the instructor's rates."
According to Quinton, providing members the ability to take their favorite RotarySwing.com golf instruction videos anywhere represents the natural next step in the evolution of this process.
"Though we recently started certifying instructors to teach our Rotary Swing Tour model, we don't have instructors in every major city...yet," Quinton said. "The ability for students to use our iPhone golf instruction feature at their practice facilities is a major advancement in bridging that gap."
Quinton feels that his approach to golf instruction meshes well with technological advances in golf. In fact, he's certain that part of his competitive advantage stems from the application of technology--like the force plates, launch monitors, and high speed cameras that litter his teaching studio--to his teaching methods and research.
"My golf instruction is one hundered percent based on scientific facts proven through research," Quinton said. "I will always look to incorporate any technology that helps me uncover more golf swing facts or deliver those facts to my students."
For more information about RotarySwing.com's iPod Touch, iPad, and iPhone golf instruction capability, visit http://www.rotaryswing.com/iphone.php.
Free and Premium Membership details are available at http://www.rotaryswing.com/golf-instruction/membership-info.php.
About Rotary Swing Golf
Rotary Swing Golf, LLC was founded in 2006 by golf professional Chuck Quinton and is one of the world's leading providers of subscription-based online golf instruction via RotarySwing.com, OnePlaneGolfSwing.com, and RotaryGolfSwing.com. These websites offer more than 180 instructional videos, totaling 20 hours of content, much of it available in high definition and on the iPhone, iPad and iPod Touch. In addition, Rotary Swing Golf's websites offer a podcast, golf training aids, online golf lessons, an active forum with nearly 5000 members, and club fittings. Quinton has authored two books: The Rotary Swing golf instruction book that has sold thousands of copies worldwide and the Rotary Swing Tour Instructor Certification Manual - Level 1. He has also produced the golf instruction DVDs Swing Plane Made Simple and Short Game Made Simple. More recently, Quinton founded the Rotary Swing Golf Academy at Sugarloaf Mountain near Orlando, Florida, and was the Teaching Professional at Castle Pines Golf Club in Colorado during 2009.
###