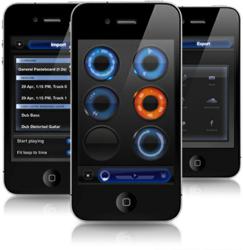 Loopy 2 is by far the best looper for the iPhone we've seen to date.
Paris, France (PRWEB) October 03, 2011
Software artisan company, A Tasty Pixel continues its succession of Apple-featured apps with its latest creation Loopy 2.0 . Loopy combines power with simplicity in a sleek, tactile interface that lets anyone create music by layering looped recordings of singing, beatboxing, or playing an instrument. A wealth of rich, expressive features lets more advanced users take their creativity even further.
Loopy has also received acclaim from music industry commentators and musicians alike.
"This is the best loop station on the iPhone," said professional beatboxer and recording artist Dub Fx. Pro audio blog "iOS Recording" recently wrote "Loopy 2 is by far the best looper for the iPhone we've seen to date."
The music creation app has been available since June this year, and a widely-anticipated universal version of the app specifically designed for the iPad, Loopy HD, is due for launch early next month. The recent announcement was accompanied by a video demonstrating Loopy HD's interface.
Loopy's unique approach allows it to maintain an easy-to-use interface whilst still packing in powerful, industry-standard features. Users familiar with professional studio applications like Ableton Live will not be disappointed by Loopy's feature set, which includes overdubbing, merging, panning, time shifting, and live tempo scaling. A sophisticated interactive tutorial system lets users discover Loopy's more advanced features at their own pace.
Loopy empowers musicians and casual users alike to:
Record and Layer:

Six tracks, represented by six beautiful circular loops.
Count-in, count-out and record chaining lets you keep your hands free to play an instrument.
Overdub, to build beautiful, complex soundscapes from many layers.
Import and Construct:
Import loops (AIFF, WAV, MP3 and more) from your computer.
Integrated MAPI AudioPaste to bring in audio from other apps.
Imported loops are automatically fit to your beat, no matter what tempo.
Manipulate and Tweak:
Full stereo audio with pan controls.
Drag a track onto another track to merge.
Live, dynamic tempo adjustment, without altering the pitch.
Perform and Share:
Record whole performances with in-app session recording facilities, and upload straight to SoundCloud, and post to Twitter or Facebook.
Email audio clips.
Share audio with many other audio apps with MAPI AudioCopy.
Device Requirements:
iPhone 3Gs or newer, or 3rd-generation iPod Touch or newer (microphone accessory recommended) running iOS 4.0 or later.
Loopy runs on the iPad and iPod Touch, but it is not specifically designed for these devices. iPod Touch users must use Loopy with a headset, as the iPod Touch does not have an inbuilt microphone.
Pricing and Availability: Loopy is available for $2.99 (USD) exclusively through the App Store in the Music category.
About A Tasty Pixel
A Tasty Pixel specialises in iPhone and Mac apps with beautiful and functional user interfaces – software that works like an extension of oneself, with the charm and elegance that make it a pleasure to use. A Tasty Pixel currently has two iPhone apps available on the App Store -- The Cartographer and Loopy. A Tasty Pixel products have been extensively featured by Apple and have been finalists for the prominent iPhone industry competition, Best App Ever Awards, hosted by 148 Apps.
A Tasty Pixel can be found on Facebook and Twitter.
###