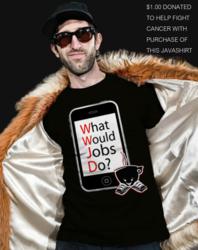 I may not have all the answers but I will do anything in my power to help put up the best fight I can. Steve Jobs early demise to Cancer was the last straw! I had to act immediately and this is my way of fighting back.
Woodland Hills, Ca (PRWEB) November 08, 2011
Javaboi Industries Creates a commemorative t-shirt dedicated to Steve Jobs to help the fight against Cancer with standup2cancer.org, iPhone lovers, coffee lovers, entrepreneurs, social media gurus, geeks, gamers, tech savvy individuals, and anyone else who loved Steve Jobs as a person, mentor, and innovator read on!
Eric Johnson, Founder & Creative Director of Javaboi Industries Inc, has released a t-shirt that was created in memory of Apple Founder Steve Jobs. iPhone lovers, and entrepreneurs alike love the story behind the brand, as well as the inspiration this story has bestowed on coffee lovers, and t-shirt lovers everywhere! Eric founded Javaboi Industries in 2009 and built the company with the help of Unemployment checks after being laid off by AIG. With 3 toddlers to feed he turned to one of his most sought after mentors for advice. "I never met Steve Jobs, I never met a lot of the people I consider my mentors but the technology brought forth in this day and age allows me to study them from a far and pick their brain at will. No matter how bad things were for Apple, Steve never saw the world through victim goggles, he always found a way to pivot and make things happen. I think that was my main inspiration for starting Javaboi Industries regardless of my circumstances."
Johnson loves to "Brew smiles" through his T-shirts at Javaboi Industries, but he wanted to create something special to pay homage to Steve Jobs, the man he says is responsible for a big percentage of his drive and ambition. Eric also goes on to talk about why he decided to donate a portion of the T-Shirt sales from this specific design to help the fight against Cancer. "Cancer has taken lives, and scared so many of the people closest to me. My mother is currently fighting this treacherous sickness, and my Uncle died of Cancer in 2006. Enough is enough! I may not have all the answers but I will do anything in my power to help put up the best fight I can.
Steve Jobs early demise to Cancer was the last straw! I had to act immediately and this is my way of fighting back." The WWJD shirt by Javaboi Industries is a perfect match for entrepreneurs, t-shirt lovers, iPhone lovers, coffee lovers, and anyone else who would like to support the cause! Read Eric Johnson's full story here Life Vs Eric. He also created a short video called "Finding My Reason WHY" a video that many entrepreneurs will be able to relate to.
While trying to come up with a mission for his brand Eric had to surpass several obstacles that life delivers to us all, some more than others. He spent hours at Starbucks watching Coffee Lovers talk, and send text messages while ordering their favorite beverage. He stated that he would survey gamer's, nerds, geeks (admitting that he fits in the "Geek" category), technology savy individuals, entrepreneurs, and people who would stand out from the croud by wearing cool t-shirts. He goes on to tell us it wasn't easy as he had 3 children competing for his attention while trying to launch a new t-shirt company. For more on his journey you should take a look at this video: "Finding My Reason Why."
Johnson, noticed that his luck started changing when he got a call from a company called "The CashFlow" They saw something in him that said he was worthy of a grant (free money) in the amount of $10,000 and 2 months of mentoring to help launch his clothing line. "I was floored, when I got the call from Ryan Stoner of 100Urban Entrepreneurs and The Cashflow! I felt like this was proof that its better to be prepared for an opportunity that never presents itself, rather than have an opportunity present itself and NOT be prepared."
Javaboi Industries is a new brand on the scene built from the ground up, grassroots style. The company launched in February of 2011, and produces fashionable products with the bulk of their inventory consisting of amazing T-Shirts aka "Javashirts" branded with the Javaboi logo, and ambassador within the design. "We have been compared to Johnny Cupcakes, & Hello Kitty which I find extremely flattering, but our mission is to make a name for ourselves." -Says Eric Johnson Founder. He also mentioned that the love for coffee is not a prerequisite to be a "Javaboi Boy, or a Javaboi Girl" (fan of the brand) . "Although it goes without saying that our brand designs based on a loveable character coffee mug, we have several fans who don't drink coffee but still love our brand."
With that said, we definitely recommend checking out Javaboi Industries, as they are pay homage ,and remember an American thought leader through a fashionable cause. Should you decide to contribute with a WWJD Steve Jobs dedicated t-shirt purchase, you will be helping the fight against cancer as we will donate $1.00 to http://www.standup2cancer.org/ .So ultimately it's win, win.
"We brew smiles here!"-Javaboi Industries Inc.
###