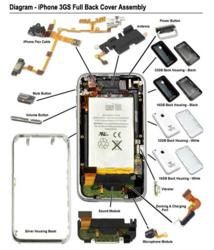 iphonerepair.org launches new online iPhone Repair & iPhone Parts Store with the most Comprehensive iPhone Parts Catalogue in the UK
London, Birmingham, Leeds, Glasgow, Cardiff, (PRWEB UK) 31 May 2013
iPhone Repair, the online iPhone Repair and Parts company, has been trying to make a bold statement in these uncertain economic times. With the sluggish economy more and more consumers are looking to get value for money and to save a bit of money. Consumers are much more educated now, then at anytime in the past, and they know the meaning of "value" as well as "false economy" better than most businesses realise. As households are feeling the pinch, people are trying to save where they can, and will go for the best deal for them.
iPhone Repair as a company has felt the same economic constraints as every other service business over the last few year. They looked at the iPhone Repair market realised that the same consumer rules and constraints applied to the iPhone Repair market, however, with two factors of importance. Firstly, iPhones or mobile phones are very important to people, it's their line of communication – literally. So it means people can't be without them for any significant period of time. Secondly, mobile phones, and especially iPhones are very personal to the owner. IPhones are like personal computers to many, and hold many people's lives and daily activities in them. Because of these two factors, people want and look for professionals who can do quality repairs and can do them fast. Speed is a key ingredient here. Because people can't be apart from their iPhone very long, the quicker the service the better.
The Head of Operations at iPhone Repair, Zara Phelps, points out a third trend that they have noticed at iphonerepair.org, which is the growth in the DIYers, people who willing to have a go at fixing it themselves. Zara points out that "although our technicians do a superb job, and they can fix an iPhone screen in under 30 minutes, and their quality of work is superb, we are also seeing more and more people having a go at repairing their own phones. We know that iPhone Screen Repair is not exactly the hardest job in the world. With YouTube you now have access to thousands, if not millions of How To video's, and there are literally thousands of how to video's on repairing iPhone Screens on YouTube. So someone who has 2 hours to spare, and has the parts, and the patience, could probably repair their iPhone screen on their own."
There is currently a huge market for iPhone Parts. This reflects the huge volume of iPhones in the market. A lot of people now have iPhones. It's no longer an exclusive item. The rich to the poor own iPhones. iPhone repair and parts market is huge, and iphonerepair.org have the potential to become one of the largest iPhone Repair and Parts company in the UK. Zara Phelps, continues "we wanted to become a One-Stop-Shop for iPhone Repairs and Parts. If anyone ever needed an iPhone Part, we wanted to be the ones that comes to mind - because they know iphonerepair.org will have the most comprehensive iPhone Parts list in the whole of the UK. That's the message that we are trying to get across with the launch of the new website."
I think if the objective is to become a One Stop Shop website for iPhone Repairs and Parts then the websites gets an "A Star". It is a beautiful site, not only aesthetically, but also because of its simplicity. It's not crowded. It has a simple menu and navigation and a search facility. Unlike some websites, it does not try to hide the telephone numbers for help and support. It's always there at the top of the page. So customers can always call, email, or chat whenever they need support or a helping hand.
ABOUT US
Company: iPhone Repair
Freephone 0800 033 7508
Calling from a mobile? Call 0207 100 1212
Website: http://www.iphonerepair.org
Email: info(at)iphonerepair(dot)org
Address: 137 Goswell Road, London EC1V 7ET
iPad Repair is One Stop Shop for iPhone Screen Repairs, iPhone Parts, and Accessories. We specialise in iPhone Screen Repair - and repair almost anything and everything when it comes to iPhone Repair.