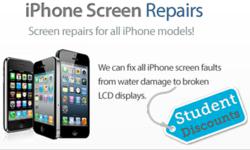 iPhone Repair Workshop launches Student Discount on iPhone Screen Repairs
London, Birmingham, Leeds, Glasgow, Sheffield (PRWEB UK) 30 April 2013
iPhone Repair can be a parent's worst nightmare as more than anyone else, parents feel the cost and inconvenience of iPhone Screen Repairs. Parents in the UK are becoming increasingly aware of the inconvenience and expense that comes with allowing their children to own an iPhone - which can result in broken screens or damaged iPhones. Although College and University students are young adults, they are often young people who are always rushing around at 200 mph, either busy with their studies or the social life that being at University brings. iPhones are the must have phones for Students and ideal for connecting and socialising with other people, whether through FaceTime or FaceBook or the million and one other Apps. It is therefore not surprising that students are big group of owners of iPhones. At a time when Students and Parents are feeling the economic pinch, it is nearly always the parent who ends up lumbered with the repair bill when their child breaks their iPhone.
Ryan Newman, Customer Services Manager at iPhone Repair Workshop said "We have seen a massive growth in iPhone Repairs coming through from parents for their Children at University. It is often the case we collect the iPhone from Halls or Student residences, and the parents call us to pay. Because we offer a National iPhone Repair Service with 24 hour collection, and same day turnaround, our service is catering to the student who is in a hurry – and students are always in a hurry. We have now introduced a 15 per cent discount for Students with a Valid Student Card or NUS card, so parents can pay less for the repairs. Our prices include a free collection and delivery, to take the pressure off what can already be a stressful situation."
He continued "By offering this service, which includes a Student Discount, Warranty, and the fact that we Manage the Collection and Delivery back on all iPhone Repairs - it gives parents peace of mind. "
iPhone Repair Workshop specialises in iPhone Repairs, with a Head Office in Central London, and cover the entire length and breadth of the UK through a Fast Collection and Delivery System.
For further information please contact iPhone Repair London Head Office on 0207 100 1212.
ABOUT US
Company: iPad Repair Workshop
Telephone 0207 100 1212
Website: http://www.iphonerepairworkshop.co.uk
Email: info(at)iphonerepairworkshop(dot)co(dot)uk
Address: 137 Goswell Road, London EC1V 7ET
iPad Repair Workshop is the Number One iPhone Repair Service in the UK. We specialise in iPhone Screen Repair - and repair almost anything and everything when it comes to iPhone Repair.