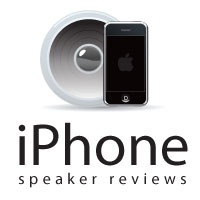 All iPhone Speaker guides and reviews now have social sharing buttons added. Making it even easier to share reviews and guides with friends
Atlanta, GA (PRWEB) July 21, 2011
The iPhone Speaker Reviews website was developed when speaker companies began producing iPhone speaker docks. As the iPhone accessory market evolved, so has iPhone Speaker Reviews. They are pleased to announce the next step in this evolution, the redesign of http://www.iphonespeakerreviews.com This redesign and relaunch has added functionality, improved usability, and enhanced performance designed to decrease page load times.
Added features and site improvements:
iPhone Speaker Comparison Tool -- Previously visitors had to switch between several pages to compare speaker dock features. Now visitors can go the iPhone Speaker Review Directory, select the systems they are interested, click the compare button and see all features side by side on a single screen, saving time and creating a more enjoyable user experience.
Improved Review Listing Pages -- The speaker review pages have been entirely redesigned, moving the most important elements to the top of the page. This change makes the information more accessible and easier to find. In addition to page layout changes, a cleaner, more refined layout has been applied to the entire site. Visit the Logitech S715i Review to get a first hand look at their redesigned page layout.
Social Network Integration -- All speaker reviews and guides now have social sharing buttons, making it even easier to share reviews and guides with friends. These buttons include the Twitter retweet, Facebook Like and Google Plus one.
Speed Improvements -- In addition to the improved user functionality, much of the code has been updated to decrease page load times. The end user will not see any of these updates but will notice pages loading consistently faster. The changes include the combination and minifying of CSS / Javascript files and the addition of a Content Delivery Network (CDN) for faster image delivery.
Steven Johnson, site redesign coordinator, was quoted saying: "We are very pleased with our most recent version of iPhone Speaker Reviews. We have utilized the latest versions Joomla and JReviews. These tools have really improved the quality of the site. We have received many positive comments from readers and look forward to many more improvements."
iPhone Speaker Reviews is dedicated to finding and reviewing the latest iPad / iPhone / iPod Speakers and docking systems. The site consists of expert editor reviews, customer reviews, editor top picks of the Best iPhone Speakers and iPhone speaker advice and guides.
iPhone Speaker Reviews is not associated with Apple. The goal of the site is for iPhone owners to find the best set of speakers without having to read and sift through all of the marketing hype.
Learn more about iPhone Speakers at the following social networks: Twitter @iphonespeakers Facebook http://www.facebook.com/pages/iPhone-Speaker-Reviews/110459309005799 and Youtube at http://www.youtube.com/iphonespeakers
The site was developed in Joomla using JReviews for the user review functionality. This most recent version took full advantage of the JReviews features.
iPhone Speaker Reviews is owned and managed by Intown Web Design of Atlanta, GA. Intown Web Design focuses on website development and online marketing for small to medium sized companies. They produce sites that are functional, stylish and search engine optimized.
When Intown Web Design is not developing sites for clients they focus on creating customer and end user sites.
###