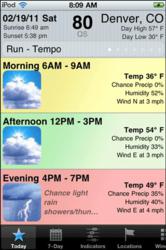 Although we did not do any marketing outside the United States following our initial launch in February, we received a significant amount of requests from people all over the world asking when Active Forecast would be available to them
Denver, CO (PRWEB) May 26, 2011
Launched to the United States market in February 2011, Active Forecast has quickly become the must have iPhone app for those who live an active and healthy lifestyle. Recognized as a "New & Noteworthy" app by Apple and currently listed on the "What's Hot" list on iTunes, Active Forecast 2.0 is now available with weather data for any location in the world.
Active Forecast combines location, calendar, weather, and training plan into a single app. Using proprietary technology and a patent pending algorithm, Active Forecast generates an easy to read, color coded dashboard based on each users individual preferences. For advanced users and professional athletes, Active Forecast integrates with your TrainingPeaks training plan to include workout details for each day.
Active Forecast Features Include:
+Weather Indicators - Users can set individual preferences for Temperature, Chance of Precipitation, Humidity, and Wind Speed.
+Quality Score (QS) - Patent pending algorithm that generates a score (1-100) based on a users preferences and profile.
+Activity Windows - Users can define the timeframe that they are typically active in the Morning, Afternoon, and Evening.
+Calendar Integration - Active Forecast will examine a users device calendar during each window to determine any potential conflicts.
+Training Plan - Active Forecast will integrate with a users TrainingPeaks account and include workout details for each day.
For more information about Active Forecast, visit http://www.ActiveForecast.com. For a limited time, get the iPhone weather app for active people for only $1.99 USD (regularly $2.99 USD) on the iTunes App Store. Active Forecast Lite with a four day forecast is also available as a free iPhone app on the App Store.
###