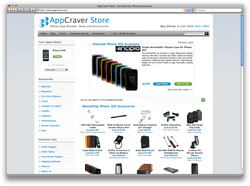 Plus, it's a great excuse for us to play with the greatest new iPhone and iPod touch accessories.
Santa Monica, California (PRWEB) July 2, 2009
AppCraver.com is an iPhone and iPod touch app review site that offers insight on the newest app releases, interviews with application developers, and industry news. The popular review site is expanding their articles to include product reviews as well.
Launching shortly after the opening of the iTunes App Store, AppCraver.com has been a trusted application review site for nearly a year. During this time the site has published more than 1800 articles featuring in-depth analysis and hands-on experiences to help users discover the best iPhone apps for their devices. The AppCraver staff is excited to bring their insight to iPhone accessories as well.
"iPhone accessories are a significant expenditure for many smartphone owners. We can help them sort through their options and choose the best accessories for the best phone," Editor in Chief Barbara Holbrook explains. "Plus, it's a great excuse for us to play with the greatest new iPhone and iPod touch accessories."
Apple's iPhone has taken the smartphone market by storm and continues to gain ground with each new release. According to the most recent data from Gartner, as of the first quarter of 2009, the iPhone maintained 10.8 percent share of the smartphone market worldwide. The long anticipated iPhone 3GS will only attract more new users to the smartphone market.
With the increase in iPhone customers comes an increase in demand for iPhone related products. Where can users go to find the best leather case or the highest-quality Bluetooth headset? In addition to reviews, AppCraver.com is launching their very own iPhone Accessories store! Complete with a shopping cart checkout, excellent customer service, competitive prices and flat $5.95 shipping for most orders, it doesn't make sense to shop anywhere else.
iPhone owners can get daily AppCraver updates by subscribing via RSS or email, or join the more than 3800 people already following them on Twitter. AppCraver's daily tweets include links to the original posts so you can stay current with the iPhone community. For further information on AppCraver or to browse iPhone app reviews, please visit AppCraver.com.
# # #