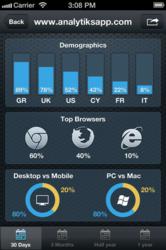 Athens, Greece (PRWEB) January 31, 2012
Analytiks app combines Google Analytics data with meaningful messages into a single, attractive page of statistics. Analytiks minimizes the fuss of custom queries and excess navigation through menus, instead offering key statistics anytime, anywhere. Analytiks offers:

Page views per day and per month as compared to the previous day or month
Percentage of traffic from Facebook, Twitter and most common search engine (Google, Bing, Yahoo!)
Encouragement messages appear to cheer up a bored blogger or congratulate a creative site owner. In landscape mode, a graph appears with the last 3 quarters of data plus the current month's worth of page views and unique visitors.
It has never been easier to report your monthly page views and visitors' traffic. Double-tap anywhere on the stats screen and you'll get a beautiful infographic that can be shared on Twitter, via email, or saved to your photo library for inclusion in a presentation.
Rather than running custom queries or requiring the navigation of separate menus on the Google Analytics web interface, the Analytiks infographic offers the following:
Top 6 countries
Top 3 browsers
The ratio of desktop and mobile users
The ratio of PC and Mac users
Reports are generated monthly, quarterly, semiannually, and annually.
With Analytiks app users can track up to 5 different sites (more to come)
Analytiks sells for $0.99 in 56 countries already.
Well known design blog Beautiful Pixels reviewed Analytiks and says it provides "A Beautiful Summary of Google Analytics Stats on Your iPhone."
The Next Web reviewed Analytiks and says it provides "the perfect snapshot of your Google Analytics on iOS."
Chartbeat CEO, Tony Haile thinks Analytiks is "pretty awesome."
Analytiks App
http://analytiksapp.com
Download Analytiks on iTunes: http://itunes.apple.com/us/app/analytiks/id427268553?mt=8
Press material: http://dl.dropbox.com/u/184353/analytiks-app-kit.zip
###