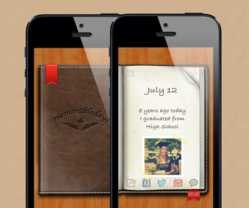 The picture and calendar feature raises the app to a whole new level
MUNICH, GERMANY (PRWEB) April 16, 2013
Now available, the new version of the app memorabledays keeps track of your personal milestones with yearly reminders and a new picture attachment feature. In our busy world, people often forget the days that really mattered to them. With memorabledays, they can now enter those days and get a reminder every year, with sentences like: ʺ8 years ago today, I graduated from high school".
Like in the previous version, the user enters an event by selecting the date and finishing the sentence, "Years ago today..." Now he can also add a picture of the event from his iPhone camera or album. He can also browse through his events in a calendar overview. On the anniversary of an event, the user gets a push notification saying for instance, "Do you know what was 6 years ago today?" The app then shows that event with a sentence like "6 years ago today I had my first date" together with an attached picture. He can also share this event via facebook, twitter, mail or sms.
memorabledays is free for one week and is then available for $0.99 in the US and priced accordingly in other regions. It is available worldwide in English, German, French, Spanish and Portuguese on the Apple AppStore.
Visit the website for more information, including a video and screenshots of the app.
memorabledays is developed by kooglefish apps, a web and mobile development company founded in 2012.
###
If you would like further information on memorabledays or you would like to schedule an interview, please contact:
Mark Kugel, Marketing & Communication, kooglefish
Email: kooglefish.apps(at)gmail(dot)com
To download the app on the app store: http://bit.ly/memdaysapp.