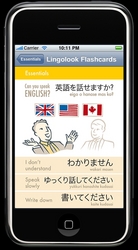 We set out to offer global travelers a fun and useful tool to communicate abroad
Princeton, NJ, (PRWEB) July 11, 2008
Among the first iPhone and iPod Touch software applications available on Apple's highly anticipated iTunes Apps Store this week is Lingolook, the clever new foreign language phrasebook application that offers travelers indispensable words and phrases through "talking translations" and enticing graphic design. Lingolook for iPhone and iTouch will launch in four editions -- China, France, Italy and Japan -- and will cost $4.99 per download. All Lingolook applications are featured in the Travel and Education categories of the new iTunes App Store.
Each edition of Lingolook Flashcards for Foreign Travel includes over 500 translations; 300 are audio translations recorded by native speakers to help users perfect pronunciation and communicate abroad with ease. All words and phrases are showcased on 75 illustrated, digital flashcards and helpfully organized by travel category and searchable through a comprehensive index. The Reference section includes all-important menu readers, numbers, travel tips and more.
"We set out to offer global travelers a fun and useful tool to communicate abroad," says Lingolook co-founder Dominique Godefroy. "Our goal is to give travelers practical content in an easy-to-use, well-designed format, and the iPhone's Multi-Touch technology certainly helps accomplish that. Users can master pronunciation of essential phrases with instant replay of audio translations, whether it's 'airport' to a taxi driver, 'wine' at a restaurant, or 'check-in' at a hotel. We hope travelers will get by in a flash -- with a tap of their touch-screens!"
Lingolook's iPhone and iTouch versions are based on the company's print editions, launched in late 2007 and available at http://www.amazon.com and http://www.Lingolook.net for $11.95 each.
About Lingolook Flashcards for Foreign Travel
Lingolook Flashcards for Foreign Travel are designed to help English-speaking travelers get by abroad in a flash. These clever, new language guides feature basic keywords travelers need -- helpfully organized on "75+" electronic flashcards. These fully illustrated cards feature translations in extra large type, audio recordings by native speakers, and easy phonetics. Travelers just flash their iPhones or repeat the pronunciation to get a point across fast. Lingolook guides also contain destination-specific travel tips, menu readers and more. Print editions for China, France and Japan are also available at Amazon.com and http://www.lingolook.net. The print versions of Lingolook Flashcards for Foreign Travel come encased in a soft, clear PVC box and retail for $11.95 each.
# # #