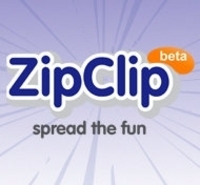 ZipClip send to my phone
Palo Alto, CA (PRWEB) February 20, 2009
ZipClip, a company that provides easy web-to-mobile media sharing, is now iPhone compatible. Using ZipClip is free. Just find content online (like pictures, music, or YouTube videos). Then right click to upload content to your iPhone and ZipClip account to store, send, or share the content with others.
One click sends pictures, images, music, videos and documents from the web to your iPhone. This saves time browsing the mobile web with an iPhone.
At Apple's iPhone-for-Business Event last year, Steve Jobs said iPhones account for 28% of the smartphone market. They represent 71% of U.S. mobile Internet usage. ZipClip is now accessible to that market.
"We've been excited to bring ZipClip compatibility with the new iPhone that just launched last year. iPhone users access the web more than other cell phone users, but they spend a lot of that time browsing and searching for the content they want in places like YouTube, Facebook and MySpace. Now with ZipClip, we've made it much easier for them to find, organize and share it all with other iPhone users," said CEO of ZipClip, Babur Ozden.
There are two ways to use ZipClip on an iPhone -- from a computer and as an iTunes application. To get ZipClip from the iTunes store search "ZipClip" in the "App Store" section. Then follow the free purchasing and downloading instructions.
Then do the following:
1. From an iPhone -- register and install the ZipClip application
2. From a computer -- login at http://www.zipclip.com and also install the ZipClip's browser add-on
(In the USA ZipClip is available on AT&T and Sprint networks.)
To use ZipClip for an iPhone as you browse the web from your computer, do the following:
a. Point the cursor next to a video clip, or on a picture, image, document, or text
b. Right click and select "ZipClip send to my phone"
c. Clip as much as you want by repeating the above two steps
d. Open the ZipClip application on your iPhone and you will find all your clips are there ready to view
About ZipClip
ZipClip is a free way to share the best of the web and mobile. Easily select most anything from any site on the Internet and send it straight to a mobile phone. ZipClip was recently named one of the Top 250 New Companies in the Digital Space by AlwaysOn Stanford and has been featured in Huffington Post, Mashable, and C|Net, to name a few. ZipClip is free but phone carrier's data charges will apply.
Sign up on ZipClip today and Upload YouTube to Mobile with your iPhone.
# # #