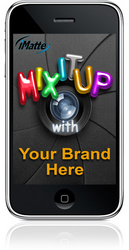 "We developed this technology to help promote in an entertaining way, and we are happy to bring this medium to iPhone users." -Paul Vlahos, CEO iMatte
Los Angeles, CA (PRWEB) June 15, 2010
iMatte, Inc. announces the launch of, MixItUp With.., from the Oscar® winning creators of Ultimatte. With an innovative new technology, exclusive to iMatte, now anyone using an iPhone camera can seamlessly insert a friend, family member, pet or even themselves into entertaining photographic scenarios instantly. MixItUp With… iPhone apps are an ingenious way to market and advertise your individual brand with products, projects, movies, television, music, celebrities, books, or just about anything you want to get into the public eye. Once the technologists from MixItUp With… create an App for your company, the App becomes available to the public and can be downloaded from the iTunes App store. Your product or project will go viral and have immediate visibility.
The debut App currently available on the iTunes store is MixItUpWithAdopt-A-Pet.com. The proceeds from this App help support homeless pet adoption for 9,000 animal shelters across North America and are sponsored through Adopt-A-Pet.com by Purina, Bayer Animal Health, and North Shore Animal League America. Using the iPhone camera, this smart new iPhone App allows you to insert your pet and you into the three famous paintings from the 1903 Brown and Bigelow calendar of dogs playing poker. Next, send it to your friends and family, post it on Facebook, Twitter a link or print it as a keepsake. It's that easy and fun! The iPhone Apps are simple to use and each one will have its own dedicated webpage along with a customized tutorial provided at the website, MixItUpWith.com.
iMatte CEO Paul Vlahos commented about the debut MixItUp With...iPhone App, "Adopt-A-Pet.com knew we had something that was special enough to help all pets in need and a great way to get the word out for their company to help raise money. We developed this technology to help promote in an entertaining way, and we are happy to bring this medium to iPhone users." Exciting, new MixItUp With... iPhone Apps will follow soon with other amazing images and ways to immortalize your friends and family members. iMatte is looking forward to working with other companies that would like to get their message or brand out in this unique and enjoyable way. For more information go to MixItUpWith.com or contact Lynne Sauve at info(at)mixitupwith(dot)com or (818) 993-8007 x215.
About iMatte, Inc.
iMatte, Inc. was created by one of Hollywood's premiere visual effects tool makers in order to bring the patented technologies of its innovative hardware and software to a broader community. Using their cutting edge technologies, iMatte delivers visual tools into the hands of promoters that can empower their projects and brands in a far more effective manner. iMatte's strong roots stem from the award-winning entertainment technology company, Ultimatte Corporation. Founded in 1976 by Petro and Paul Vlahos, Ultimatte is the world's recognized leader in sophisticated matte extraction and compositing tools for the film, video and graphics communities, and recipient of numerous industry awards, including three Oscars® and an Emmy®. Petro Vlahos, a world-renowned special effects pioneer who developed the color-difference blue screen process, was awarded a Lifetime Achievement Oscar® by the Academy of Motion Pictures Arts and Sciences in 1994 and continues to play a significant role in the development of iMatte's patent portfolio along with his son, Paul. The company is located in Chatsworth, CA and continues to develop new technologies for the entertainment and visual arts communities.
Visit the website at http://www.MixItUpWith.com or contact Lynne Sauve at info(at)mixitupwith(dot)com or (818) 993-8007 x215.
(All trademarks used herein, whether recognized or not, are the properties of their respective owners).
# # #