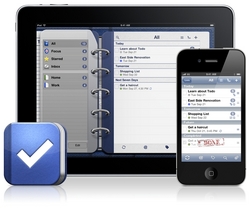 With the amazing features of iOS 4, monitoring and completing tasks during the day is now possible even when Todo isn't running.
Orem, UT (PRWEB) September 28, 2010
Appigo, Inc., a worldwide leader of high quality iPhone and iPad apps, today introduced Todo™ 4, a significant major upgrade to the company's popular to-do list app for the iPhone and iPad, featuring secure passcode locking, multiple reminder alerts per task, and full support for iOS 4. Todo 4 for iPhone and iPod touch includes intelligent iOS 4 features including hi-res Retina display graphics, true background multitasking, local task reminder alert notification, and live app badge updating. Todo 4 also includes support for Todo Online™, a brand new cloud synchronization service for tasks.
"Appigo has taken Todo 4 to a new level that is far beyond other to-do list apps available on the iPhone or iPad," said Calvin Gaisford, Appigo's CEO. "With the amazing features of iOS 4, monitoring and completing tasks during the day is now possible even when Todo isn't running."
Todo 4 includes many optimizations that take advantage of multitasking in iOS 4. When users receive a phone call or switch to another app during a task synchronization, Todo 4 continues to run until the synchronization finishes in the background. Another feature exclusive to Todo 4 is live badge updating, which uses local notifications to continuously keep the badge count on the iPhone home screen up-to-date with the number of tasks actually due based on the iPhone's current time.
Although Todo 4 for iPad will continue to use Apple's Push Notification system for delivering task reminder alerts, the iPhone version of Todo 4 takes full advantage of iOS 4's new local notifications to remind users of tasks regardless of their device's network connectivity. Appigo plans to release a free update to Todo for iPad with full iOS 4 support when iOS 4.2 for iPad is available later this year (Todo for iPad with support for iOS 4 contingent upon Apple releasing iOS 4.2 for iPad: http://www.apple.com/ipad/software-update/).
Todo 4 for both iPhone and iPad includes passcode locking for the entire app which allows users to enter in a four digit code to prevent others from accessing sensitive task information. Another new feature provided in the release is the ability for users to add multiple reminder alerts for any given task, each customizable for specific reminder times.
Todo 4 integrates with Todo Online, a brand new over-the-air cloud sync for tasks. Todo Online allows users to synchronize their tasks between iPhone, iPod touch, iPad, and the desktop using a standard 3G or Wi-Fi connection. Todo Online also provides users with an easy way to access their tasks from any modern web browser.
Appigo has also released updates to their desktop task synchronization app, Appigo Sync, which allows users to sync their tasks with iCal (Mac) and Outlook (Windows). iCal users get the benefit of utilizing Todo's multiple reminder alerts for each task.
Pricing & Availability:
Todo 4 for iPhone and Todo 4 for iPad are now available on the iTunes App Store for $4.99 (US).
Todo Online is now available as a subscription-based service for $19.99 (US) per year for an individual account. Users can sign up for a free, 14-day Todo Online trial at https://todo.appigo.com/
Appigo Sync (for Mac/PC) is now available as a free download on Appigo's website.
Requirements:
Todo 4 for iPhone requires iOS 4.0 or newer. Todo 4 for iPad requires iOS 3.2 or newer. Task synchronization requires proper network connectivity using the iOS device's built-in 3G or Wi-Fi radio.
Media Kit:
A media kit is available on the company website and includes hi-res app icons and screenshots.
About Appigo:
Appigo, Inc., develops high quality applications for iPhone computing platform including Todo (powerful task management), Corkulous (ideas at your fingertips), Notebook (notes available everywhere), and AccuFuel (fuel efficiency tracker). With many years of experience in mobile computing, networking and user interface design, the Appigo team focuses on building applications that are enjoyable for end-users. The products created by Appigo have quickly gained favorable reviews worldwide. For additional information about Appigo and their products, including full demonstration videos, please visit their website.
Appigo, Corkulous, Appigo Todo, Appigo Todo for iPad, Todo Online, AccuFuel, and the respective app icons are trademarks of Appigo, Inc. Appigo Todo and Appigo Todo for iPad contain Patent Pending technology. Copyright 2008-2010, Appigo, Inc. All rights reserved. Apple, the Apple logo, iPod, iPod touch, and iTunes are trademarks of Apple Inc., registered in the U.S. and other countries. iPad and iPhone are trademarks of Apple Inc. App Store is a service mark of Apple Inc. Other company and product names may be trademarks of their respective owners.
###