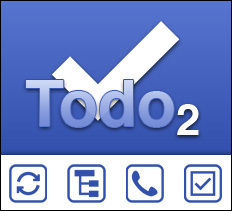 When we first released Todo at the launch of the iTunes App Store on July 11, 2008, it was very apparent that our customers wanted alerts
Orem, UT (PRWEB) June 17, 2009
Appigo, Inc., a worldwide leader of high quality iPhone applications, announced today their intentions to provide updates to each of their applications with support for the new features in Apple's iPhone OS 3.0. Todo, the most popular paid to-do list application for the iPhone and iPod touch, will be the first of Appigo's applications to receive an update. The initial focus will be task alert reminders using Apple's new Push Notification Service.
"When we first released Todo at the launch of the iTunes App Store on July 11, 2008, it was very apparent that our customers wanted alerts," said Calvin Gaisford, President and Co-Founder of Appigo, Inc., "With the new Push Notification Service, we're excited to take Todo to a new level."
Now that the iPhone OS 3.0 is available to the general public, Todo is in its final stages of beta testing to ensure a high quality level when the Todo update is released.
In April, Todo raised the bar for productivity applications with its 2.0 release by introducing projects, checklists, and manual task ordering. As a fully functional task management app for the iPhone it also provides Wi-Fi synchronization with iCal on Mac OS X via Appigo Sync, a free download from Appigo's website. Additionally, Todo integrates with two popular online task management services, Remember The Milk and Toodledo.
Appigo Todo consistently receives strong accolades from its customers due to its ease of use. In the words of one customer, "Todo is leaps and bounds ahead of the other productivity apps. Quite simply, I have 'gotten more stuff done' because of this app!"
Appigo also plans to enhance its other iPhone applications: Notebook, which provides users with excellent organization of notes; and AccuFuel, which tracks fuel efficiency. These will be updated to take advantage of new iPhone OS 3.0 features. Notebook and Todo currently integrate by offering note and task sharing between the two applications. The enhancements of the new iPhone OS will allows Appigo's entire suite of applications to reach an even higher level of integration.
Todo Lite, Appigo's free version of Todo, will also receive the same updates as the fully functional version of Todo.
Minimum Requirements:
Existing versions of Appigo's applications require iPhone/iPod touch 2.2 or later. Updates made specifically for iPhone OS 3.0 will require iPhone/iPod touch 3.0 or later.
Pricing and Availability:
Appigo Todo ($9.99), Notebook ($4.99), and AccuFuel ($0.99) can each be purchased directly on the iTunes App Store. Todo Lite is available as a free download on the iTunes App Store. Appigo Sync is available as a free download from Appigo's website.
About Appigo:
Appigo, Inc., develops high quality applications for the exciting iPhone computing platform including Todo (powerful task management), Notebook (notes available everywhere), and AccuFuel (fuel efficiency tracker). With many years of experience in mobile computing, networking and user interface design, the Appigo team focuses on adding polish to its applications for a more enjoyable end-user experience. The products created by Appigo have quickly gained favorable reviews worldwide. For additional information about Appigo and their products, including full demonstration videos, please visit their website. Appigo, Appigo Todo, Appigo Notebook, Appigo AccuFuel, the respective app icons, and the Todo[2] logo are trademarks of Appigo, Inc. Copyright 2008-2009, Appigo, Inc. All rights reserved. Apple, the Apple logo, iPhone, iPod, iPod touch, iTunes, Mac, and the Mac logo are trademarks of Apple Inc., registered in the U.S. and other countries. Appigo Todo uses the Remember the Milk API but is not endorsed or certified by Remember The Milk. Appigo Todo uses the Toodledo API but is not otherwise affiliated with Toodledo.
Contact:
Boyd Timothy
Co-Founder
Appigo, Inc.
801-376-5500
###