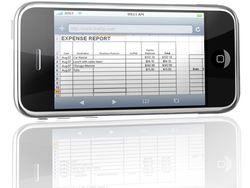 Boston, MA (PRWEB) March 12, 2008
1stWorks Corporation, a real-time communications software company with solutions for secure multimedia conferencing, collaboration and content delivery, today announced the immediate availability of Files2Phones Access Server -- Enterprise Edition.
This server based iPhone application, Files2Phones, once installed securely inside the corporate firewall, enables corporate Apple iPhone users to access their desktop data inside the corporate IT network from any where, at any time. All data is accessed in real time through the VPN feature of the iPhone.
Whether your organization uses a VPN with Digital Certificates or an SSL
VPN, Files2Phones Access Server - Enterprise Edition is simple to install and deploy in your corporate IT environment.
Multi part internal naming schemes are supported, for example:
JohnSmith.internal1.internal2.externalname.com, for compatibility with any deployed WAN setup. Up to 1000 users can be supported on a single primary Windows server running Files2Phones -- Enterprise Edition inside the network, while each additional Windows server can add support for an additional 2000 users.
While traveling, employees who also have access to computers, as well the iPhone, can use this iPhone application to gain authenticated remote control and access to their desktop.
In addition to barrier security, all application and file access requests are recorded to a secure log file on the server, recording the name of the files accessed or executed and a timestamp. The requesting IP address, port and connection type are also noted.
Files2Phones Enterprise Edition, with its secure multi device support for remote access and control of the desktop for both applications and content, delivers a powerful advantage in today's increasingly mobile business world.
Files2Phones Access Server- Enterprise Edition is available immediately for the iPhone, please email us at info @ f2p.com for more information.
About 1stWorks Corp.
1stWorks Corporation is a real-time software communications company with solutions for secure collaboration, conferencing, and multimedia content delivery -- incorporating its patented data compression technology, Quantized Indexing. Ten thousand customers worldwide in more than 70 countries already use the hotComm software platform. 1stWorks was founded in 2000 by executives from several earlier successful companies and is located near Boston.
More information at http://www.1stworks.com .
Corporate contact:
Nigel R. Spicer
508-541-6781
###