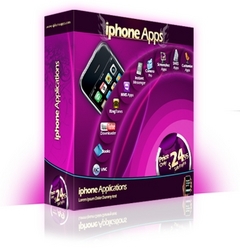 We are the first and only company of our kind, offering this exclusive package
Wall Street, New Jersey (PRWEB) June 21, 2008
iPhoneApps.org marks the launch of a ground-breaking, unique new software application product for the ever popular iPhone. With a generous choice of 10 of the most popular and commonly used PC applications, you'll have everything you need all available on your very fingertips with your iPhone at hand. If you're on the move, why carry a laptop when your iPhone can have it all! It truly is a remarkable and innovative product perfect for every iPhone owner who desires to make the most out of it.
It's difficult to dislike the iPhone. It's sleek and compact design and superior technology makes it rather irresistible. Now, combined with savvy and popular applications, it quite simply demands attention. "With our groovy applications, Apple's iPhone can literally be transformed into a mini-computer that doubles as a phone," said Mark Scott, chief executive of iPhoneApps.org. "Our iPhone apps bundle covers a huge spectrum of the most popular activities carried out by the general public on their home computer, making this the greatest collection of iPhone applications ever!"
Powerful and attractive applications as such give the iPhone a lot more to do, keeping the everyday iPhone user busy with all the functions commonly carried out on the PC. There is a tremendous uniqueness of the company product, "We are the first and only company of our kind, offering this exclusive package," says a sales page spokesperson, "and with a price tag of only $24.95, it's a steal."
People today are always on the move, and require access to some of the great facilities that the internet brings. The problem is, how can we carry out our day-to-day online needs whilst on the go? The answer -- turn your iPhone into a handheld computer! It truly is amazing what one can now do with just an iPhone.
The iPhone has been released worldwide for over a year. Owners are now in the need to get the most out of their intelligent, handheld equipment, which is why iPhone customizations are just perfect for the users that want to make the most of it. It's nerve-racking trying to install individual applications from obscure websites online, which lead to faulty iPhone applications, broken links and sometimes no-updates. That's why, it's always recommended to save yourself all the hassle, have it done from one reputable source in no-time, with excellent customer support and frequent updates all inclusive.
Some of iPhoneApps.org highlights include the VNC application, a truly extraordinary feature that will actually allow one to access a home computer without having to be in front of it. So, all your files and folders can be accessed within moments, should you urgently require. Isn't that something! It's almost equivalent to carrying your home computer in your pocket. Other remarkable applications include; Internet Messenger...from AOL to MSN, MMS for sending all your latest photos to friends and family with incredible ease, YouTube video downloader, SNES application to access and play all the legendary games from the past and so much more!
In all essence, iPhone applications are at the very heart of customizing your iPhone to the fullest. iPhoneApps are the only online company offering such an outstanding all-in-one applications product with excellent customer support on-call and reliable updates when available. If you've ever wanted to get the most out of your iPhone, iPhoneApps are the one-stop solution for you!
Please click here to visit iPhone Apps
###