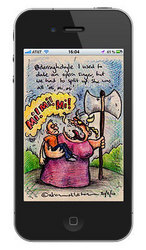 AppMakr was amazingly easy to use, especially when compared with other tools I looked at for the job.
San Francisco, CA (PRWEB) October 6, 2010
Irkafirka, an irreverent collection of drawings based on actual tweets, is announced this week as one of The Independent's top picks for best 50 iPhone apps. Built using AppMakr, it's listed amongst apps like Instapaper, Google Maps, and Bejeweled.
Started by collaborators Nick Hilditch and Chris Bell, Irkafirka has been called "amazing, beautiful, and very odd". Every day the duo take random musings found on Twitter and spend 24 hours illustrating and coloring their personal takeaway on the matter.
The duo originally showcased their work on their website and gained a small but dedicated following amongst Twitter fans. They soon sought to widen their audience base using mobile applications. With no development budgets Chris Bell of Plain Advice Limited turned to AppMakr.com, a revolutionary web-based platform for making fully native iPhone applications in under 30 seconds.
"AppMakr was amazingly easy to use, especially when compared with other tools I looked at for the job," says Chris Bell. Using AppMakr is free and requires no coding experience, Irkafirka's iPhone app displays illustrations directly from Twitter's RSS feed. Irkafirka's fans can also communicate with Nick and Chris with messages or push notifications. Spending less than three hours on marketing, Irkafirka's iPhone app had 1,000 downloads by the first week.
About AppMakr (http://www.AppMakr.com):
AppMakr makes it easy for anyone to make an native iPhone app, no coding experience required. Make iPhone apps with your own content from anywhere, interact with messages, and track download counts and use from your users. AppMakr makes it easy to extend your brand on to iPhones. Distribute your own iPhone apps or have AppMakr help you with uploading your app to iTunes Store. AppMakr has been profiled in TechCrunch, Time, Mashable, MobileCrunch, TechMeme, TECH Cocktail, The Wall Street Journal and The Washington Post. For details, contact Jerry Wang, jerry.wang(at)appmakr(dot)com or (213) 784-8612.
###